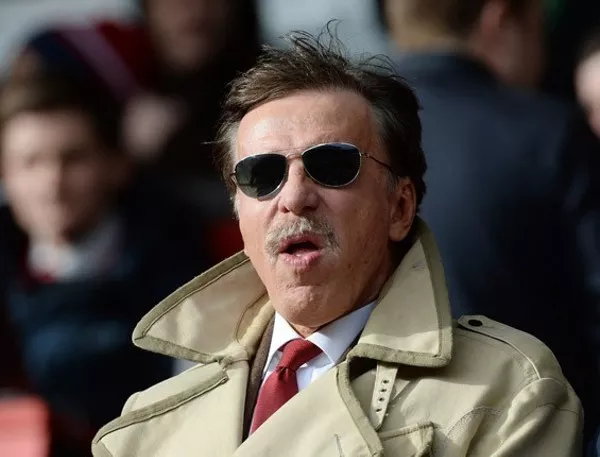 PETER POWELL/EPA/NEWSCOM
Stan Kroenke, big game hunter.
No longer content to kill the dreams of sports fans, Stan Kroenke now advocates snuffing out animals as well. Is there any joy Stan
won't
destroy for a lark?
Kroenke, a billionaire toupe with a custom human mobility scooter,
recently launched
My Outdoor Sports TV in the UK. It's a cable channel mostly dedicated to hunting shows, especially the hunting of "big game." The channel is already available in America (of course it is), but in the UK, where guns and hunting are not a part of most people's daily lives, the channel has ruffled feathers.
Philippa King, the chief operating officer of the League Against Cruel Sports, decried My Outdoor Sports TV in no uncertain terms. Let us blockquote with extreme prejudice:
"Most people won't agree that trophy hunting is in any way ethical, and studies have debunked claims that most of the blood money goes towards supporting conservation," Ms King added. "I'm not sure in what way an idiot with a gun against an elephant is a fair chase."
Is Ms. King aware of the
Los Angeles
Inglewood Rams? Because that team is some of the cruelest shit masquerading as sport that football fans have ever witnessed.
At any rate, this latest endeavor will not endear Kroenke to the British. The majority owner of English Premier League club Arsenal has previously outraged his fan base with his penurious budgets and the continued employment of long-time manager Arsène Wenger, whom fans feel has ossified in his tactics.
If you're keeping score at home (and in St. Louis and North London, people definitely are), Kroenke has now stolen an American football team from its fans, reduced a once-great English football team to mediocrity, and brought bloodsports to a country which firmly and politely declines to arm itself beyond carrying darts to the pub.
What a prick.