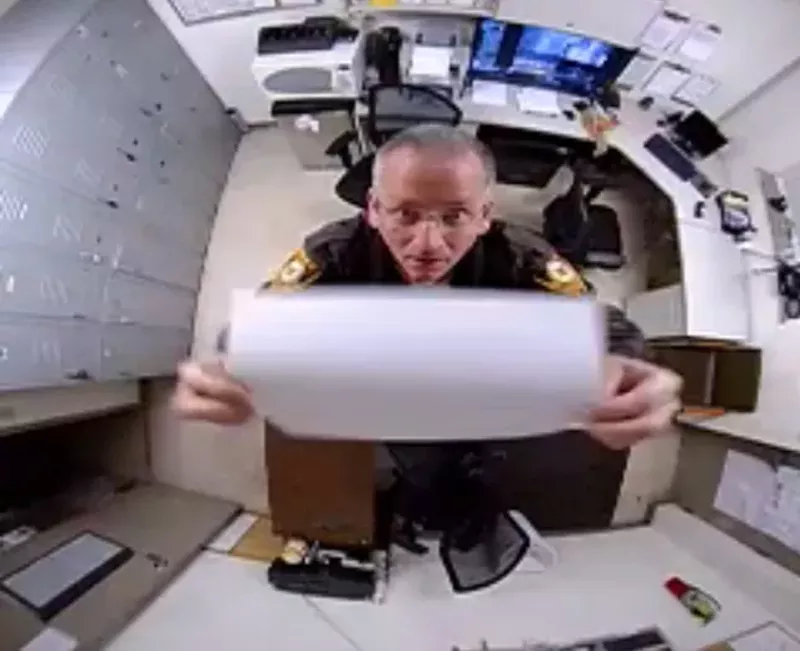 Image via Metro
A St. Louis County police officer is shown covering up a surveillance camera in 2015.
In December 2013, a pair of public safety officers working for Metro wrote emails to their chief to complain about a St. Louis County police officer.
The officers had run a background check the night before on a man caught peeing on a MetroLink platform. When they learned the man was wanted on nine warrants, they called for their police partners in the county to arrest him.
But the county cop who responded, Officer Dawon Gore, was belligerent, the public safety officers alleged. Gore chastised Metro officer Kathy Ruffin for running the warrant check and writing a citation.
"That's for us real law enforcement!" Gore said, according to the complaints.
Gore mocked and berated Ruffin, who had spent more than twenty years as a city cop before joining Metro, throughout the rest of the encounter, she claimed.
"It was as if he was doing a lot of chest thumping for absolutely nothing," she wrote to Metro Chief Richard Zott. "We need to be more pro active and 'Team Metro,' not us versus them."
Nearly four years later, "Team Metro" seems more of a pipe dream than ever. The train line is operated by Bi-State Development, which has its own security force of 38 public safety officers (many of whom were or still are peace officers with other police departments), as well as the equivalent of 130 full-time security guards contracted through Securitas. In addition, Bi-State contracts with St. Louis County, the city of St. Louis and the St. Clair County Sheriff in Illinois for police officers to patrol the line.
Ideally, all these agencies would work together to keep riders safe. But emails and documents from Bi-State show that Metro has clashed bitterly with the county, and to a much lesser extent the city and St. Clair.
The long-running turf war flared up over the last week, as
St. Louis Post-Dispatch columnist Tony Messenger unveiled a bombshell report in three parts
, accusing county police officers of hiding out in a security office as criminals terrorize strap-hangers.
Messenger released photos taken from surveillance footage that show county officers covering up a camera in the security office at the North Hanley train station at least eight times. Other pictures show as many as a dozen officers hanging out inside the small office. They seem to be on their phones or talking. Two officers are seated with their backs turned to the monitors that show what's happening on the platform.
Image via Metro
A dozen St. Louis County police officers fill a security officer on July 4, 2017.
Messenger also revealed reports of officers shopping miles away for guns, sleeping and filing bogus work logs for patrols that never happened, all while passengers were left to fend for themselves.
The documents, photos and videos were obtained through an open records request to Bi-State.
The Riverfront Times
has since requested, and received, the same materials from the agency.
In the aftermath of Messengers' stories, the county council has called for an outside investigation, and police and government leaders have unleashed a war of words and counter-accusations. Vince Schoemehl, chair of the public safety committee for Bi-State Development, which oversees the MetroLink, said St. Louis County Police Chief Jon Belmar should be fired.
"Enough is enough,"
Schoemehl told Fox 2
. "It's now time for St. Louis County to do something. They got a police board out there. I think they ought to fire him or he should resign."
The executive board of the St. Louis County Police Association, the union that represents county officers, says it's Metro Chief Zott who should quit or be fired. Union spokesman Gabe Crocker went on KTRS radio on Wednesday and painted Zott as a creep, accusing him of using the surveillance camera and possibly "hidden" cameras to spy on officers in the security office.
"Maybe if Richard Zott spent a little less time trying to look at police officers naked in the locker room and handing those videos over to the media, maybe what he could do is start sitting down with Chief Belmar, sitting down with the acting chief of St. Louis city and start solving some of these problems with Metro,"
Crocker told KTRS host McGraw Milhaven
.
What was once an ugly, but private, feud among agencies is now publicly nasty.
"It is unfortunate that the focus has shifted away from the main topic – keeping the transit riding public safe," Bi-State spokeswoman Patti Beck said in email when asked about Crocker's statements. (Zott did not respond to a request for comment.)
In an interview, county police chief Belmar tells the
RFT
that finger-pointing among agencies has gotten out of hand. He claims he has information that would be "damning" to Metro, but says releasing it would only continue the battle.
"I'm not going there," Belmar says, sort of going there. "It's not useful."
He says the department's internal affairs division will conduct a full investigation of the allegations laid out in Messenger's stories, and Belmar will then decide if there was any wrongdoing. The photos of a jam-packed security office, images of officers covering cameras and reports of officers shirking duties are a cause for concern, but Belmar says he needs more information.
A quick overview of the officers' numbers, however, don't show any evidence that the 44 county cops assigned to the trains are spending their days hiding out in the security office, he says. Belmar points to statistics that show nearly 1,900 calls initiated by those officers, more than 400 arrests and 27 guns confiscated from people on the trains and platforms so far this year.
"Seizing 27 guns off the line in 2017 — there's some work that has to be done there to do that," he says.
He also sees a possible explanation for photos showing as many as a dozen officers inside the security office. It was July 4 weekend and additional officers were working long shifts for Fair St. Louis. Sergeants were telling their charges to drink water, eat and get off their feet when they could, Belmar says.
The chief questions the way the accusations came out. He says he was at a meeting with Zott two weeks ago and wasn't told about any of the problems suddenly made public.
"My goodness, he could have told us that, told me that, either officially in the meeting or on the side," he says.
One of the problems, according to Belmar, is the camera. He has said it's an invasion of privacy, recording the room that officers working out of the North Hanley station use to write reports, monitor external surveillance cameras, eat, take breaks and change clothes.
"We probably should have said to Metro, 'Hey, listen, you don't have other cameras in the other offices that monitor rooms such as this. Why is this one necessary, and can we broker an agreement on when this camera gets turned on and doesn't get turned on?'" Belmar says. "I think, looking back on it, that would have been a reasonable thing for us to do."
But Metro has said the camera is there for a simple reason: County investigators wanted recordings of the inside of the room. It dates back to another issue with Gore, the same county officer accused of disparaging Metro public safety officers in December 2013.
Four months after the public safety officers made their complaint, in April 2014, Gore charged a man outside the office after a verbal disagreement, smashed his hand with a baton and then dragged him inside the security office.
The initial incident was captured by two exterior cameras, but there was no camera at the time inside the office. The man claimed Gore squeezed his broken hand when they were behind closed doors, but the officer denied it, and a security guard said she didn't see it happen.
<!—————StartFragment—————>
Zott told Messenger
county investigators asked for footage from inside the office, but there were only external cameras back then. So they installed one "to protect both the county officers and our officers."<!—————EndFragment—————>
Gore was eventually charged with second-degree assault. The case is still pending.
Image via Metro
A St. Louis County police officer covers a video camera on July 5, 2017.
In the records released by Bi-State, emails going back years show the rift between Metro and the county was nothing new. County officers have long regarded the Metro public safety officers — sometimes called "red shirts" — as little more than mall cops.
Crocker, the union rep, made the point clear on KTRS: He called for Zott to be fired "so we can put somebody in charge of those security guards, because they're not police officers; they're security guards."
For his part, Zott has been pushing for years to build a commissioned transit police force instead of the hodge-podge of agencies.
"This is typical of what we put up with every day and another reason our own authority is so critical," he wrote to a Bi-State official in a 2013 email about a juvenile robbery suspect, who was later released by a county police officer.
"We hire motivated officers and in a short amount of time working with the county (and in some cases the city as well) they become frustrated and lose their motivation," Zott wrote.
In complaints about their police partners, Metro public safety officers and dispatchers reported wait times of up to two hours for police to respond to robberies or other serious calls, sometimes allowing suspects to walk away. When officers did show up, they were often dismissive of Metro, even releasing suspects in some cases, according to Metro's complaints.
In a November 2015 incident reported by Metro, public safety officers detained a suspect in an alleged car theft. The SUV's owner had pointed them to his stolen vehicle, and the accused thief walked up to the vehicle as they were investigating. But when the Metro officers called it in, it took more than an hour for two cops to arrive. When they did, the county cops told Metro to take off so they could handle it.
The Metro officers say they did as they were told — but continued to watch on surveillance video because the suspect had a history of violence. Within ten minutes, the county officers had taken off the man's handcuffs and turned him loose, according to Metro's write-up. The two county officers then listed themselves out of service for the next two and a half hours, according to the report.
Part of the fight between the county and Metro revolves around the authorization to write tickets. Metro had been using a reporting number issued to the county through some type of long-running agreement. In an October 2015 letter signed by Belmar and then-St. Louis city police Chief Sam Dotson, Metro was told that would no longer be allowed. The chiefs also told Metro it didn't have authority for its canine unit or even to put red flashing lights on its vehicles.
These steps were necessary to make sure everyone was in compliance with state law enforcement standards, according to the letter, but Metro took it as a power play. And Metro officers' lack of an authorization number, something issued by the Department of Justice, has kept the agency from writing tickets for fare-jumping and other baseline problems,
a situation first reported by the Post-Dispatch
.
On Wednesday, Belmar says he sees Metro as an important part of safety on the trains, but the role he describes is far from what Zott and Bi-State have sought.
"Metro is well-suited to be a corporate security adviser for Metro for the benefit of the ridership," he says. "Metro has that ability to look at every aspect of safety on the line, from things as basic as rail safety all the way up to crime issues — informing the police what crime issues look like."
He says the arrangement could be similar to that of Barnes-Jewish Hospital, Ameren or Monsanto — any big operation with its own security guards.
We welcome tips and feedback. Email the author at doyle.murphy@riverfronttimes.com or follow on Twitter at @DoyleMurphy.