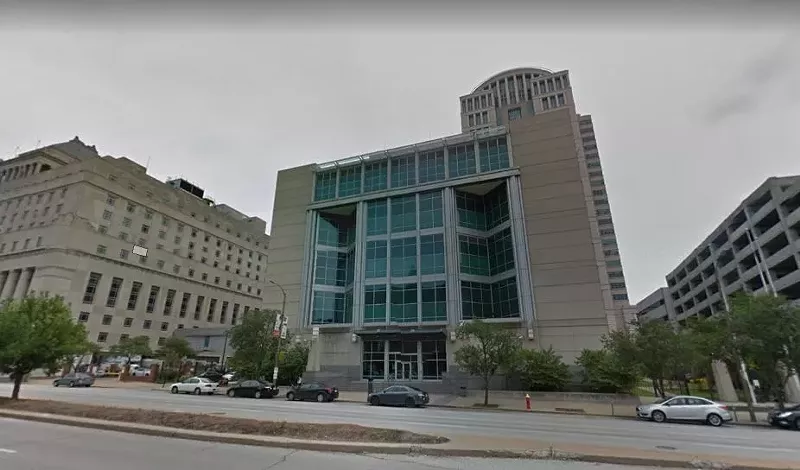 via Google
The St. Louis Justice Center was the setting for a deputy sheriff's scheme to isolate a female inmate.
On April 20, St. Louis deputy sheriff Christopher Lee Jones entered a private holding cell in the St. Louis Justice Center with packages containing homemade barbecue chicken, lasagna and corn. The holding cell contained one inmate — a female, and one he'd specifically summoned from the city's infamous Workhouse.
The deputy gave her the food. And after she finished eating, she alleges, he asked, "You got yours, now where is mine?" Then, she says, he assaulted her.
Jones was arrested one day later. Not only is the now-suspended deputy sheriff awaiting trial for a sexually assaulting the female inmate — he faces a felony charge of "sexual conduct with a prisoner" — he's also been hit with a lawsuit from his alleged victim.
Initially filed last month in St. Louis Circuit Court, the lawsuit was transferred Monday to federal court. The allegations present a disturbing account of the lengths Jones allegedly took to isolate and assault then-inmate Toni Demyers, who gave permission through her lawyer for
Riverfront Times
to publish her name.
"She wants to make sure this never happens to another individual," says Demyers' attorney, Nicholas Meador. The five-count lawsuit accuses the St. Louis Sheriff's Department of perpetrating a range of civil rights violations and singles out Jones for breaking state laws on assault and false imprisonment.
The incident took place in April 2017, when Demyers found herself languishing in the infamous Medium Security Institution in north city, better known as the Workhouse. She'd been charged with felony robbery and armed criminal action over an incident in which she'd taken "several items from a clothing store" and threatened an employee who tried to stop her, according to a spokeswoman for the circuit attorney.
Demyers wasn't considered a dangerous criminal. Ultimately, in May, she would plead guilty and enter a court-mandated drug treatment program with no prison time. But on April 20, having spent more than six months of pre-trial detention in the Workhouse, Demyers was still waiting for her case to progress to the plea-bargain stage.
There was no scheduled court hearing for Demyers on April 20. And yet, she was plucked out of her Workhouse cell and driven to the Justice Center in downtown. That was Jones' doing.
According to the lawsuit, Jones' job duties as deputy sheriff included supervising the transport of pre-trial detainees between the Workhouse and Justice Center. After Demyers arrived at the Justice Center, the suit claims Jones "forced Demyers into a private holding cell" and revealed to her that there was no court hearing. Instead, the suit alleges, he said that "he wanted to see her and that he had cooked her dinner as a birthday present."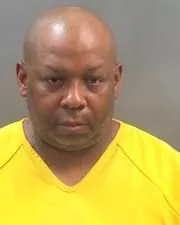 St. Louis deputy sheriff Christopher Lee Jones was suspended after his April arrest.
That's when Jones allegedly brought out the chicken and side dishes.
"Defendant Jones demanded Ms. Demyers eat the food he had prepared for her while in the private holding cell," the lawsuit continues.
After she'd eaten, the alleged assault began. The lawsuit describes Jones grabbing Demyers' breast, shoving his hand down her pants and penetrating her with his fingers.
According to the suit, Jones only halted his attack upon hearing the sound of a second deputy sheriff walking entering the hallway.
Meador says his client was distraught when the second deputy found her in the private holding cell: "From the way she described her behavior, she was irate, she was yelling, she was not conveying any clear and concise point because of what had just happened to her."
Demyers was moved to a shared cell in the Justice Center containing another female detainee, but the lawsuit states that Jones was still intent on his goal — he returned, removed Demyers from the shared cell and led her back to the private holding cell where he'd presented her with the "birthday present."
As they entered the holding cell for a second time, Demyers claims Jones told her that he'd been "trying to fuck the shit out of her, but they came too fast." However, Jones was startled by yet another deputy patrolling down the hallway. Demyers says Jones got spooked and departed.
Soon afterward, Demyers was transferred back the Workhouse, where she blew the whistle. Jones was arrested the next day, and about a week later he was suspended without pay and charged with a felony. A probable cause statement noted that the incident was captured on video surveillance.
While he has not viewed the footage himself, Meador suggests that whatever was captured by the camera was enough to convince prosecutors that Jones needed to be arrested without delay.
However, Meador alleges that "the level of attention to detail" within Jones' plan makes it unlikely that he pulled it off all by himself.
"He called my client out of the Workhouse with a fraudulent court date with the intent to pull her aside one-on-one," says Meador. "We're not saying the supervisors were aware, but we find it very hard to believe that no other coworkers would have been aware of this level of planning and action."
A representative with the sheriff's office tells
RFT
that Jones' suspension status remains unchanged, since the termination hearings proscribed under state law are still pending. Jones is scheduled to face trial in September.
Responding to questions about Jones' arrest in April, St. Louis Sheriff Vernon Betts
told the St. Louis Post-Dispatch
that he was working to reform the "the culture and operations of the department."
Editor's note: The story was updated to more clearly explain the timeline of Demyers' criminal case.


Follow Danny Wicentowski on Twitter at @D_Towski. E-mail the author at Danny.Wicentowski@RiverfrontTimes.com