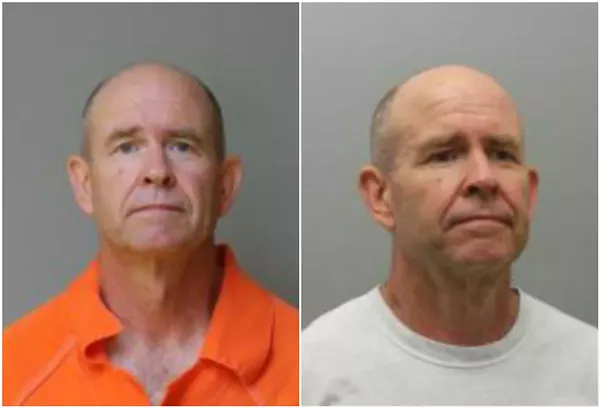 Images via Florissant and St. Louis County police
Florissant city hall janitor Ronald Pixley was accused of taking up-skirt photos of female employees.
A Florissant janitor preyed on the city's female employees, snapping up-skirt photos of them at City Hall and even stealing underwear and toiletries from their homes, authorities say.
Ronald Pixley, 59, was charged with three counts of burglary and one count of invasion of privacy.
He worked at Florissant City Hall until Friday, when an employee caught him acting strangely and contacted police,
according to Fox 2
. The creepy custodian admitted to investigators he'd taken illicit pictures of at least two employees and burglarized their homes, the station reported.
Pixley's activities began as early as March 2016, according to court documents. He is accused of sneaking into the homes of at least three women, identified only by their initials in the documents.
Once inside, he stole "undergarments, feminine products and toiletries," a probable cause statement says.
Pixley, who has been fired, was jailed on $50,000 bond.
We welcome tips and feedback. Email the author at doyle.murphy@riverfrontimes.com or follow on Twitter at @DoyleMurphy.