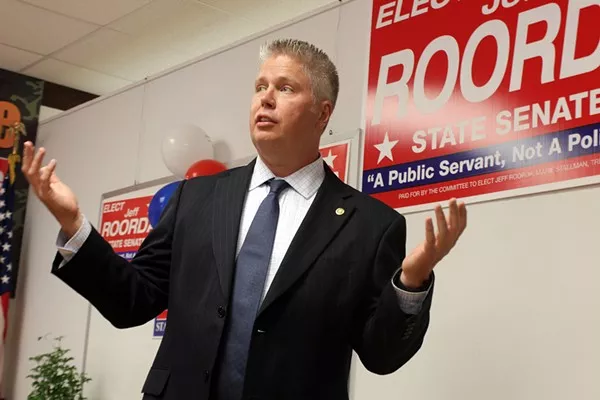 PHOTO BY DANNY WICENTOWSKI
Jeff Roorda to the city: "Show us the money."
When it comes to the future of public safety in St. Louis, the complaints advanced by the city's largest police union have landed somewhere between entitled and apocalyptic.
Representing 1,100 city cops, the St. Louis Police Officers Association is in the midst of contract negotiations with the city, and its controversial business manager, Jeff Roorda, has spent months proclaiming that an insufficient salary increase will create a
"dire" shortage of officers
. Roorda and the union were also
not at all pleased
that the city earmarked a chunk of potential revenue from a proposed sales tax increase to fund such things as after-school groups, social workers and mental health treatment, a.k.a
"programs unrelated to police pay."
But for St. Louis budget director Paul Payne, there's one word that he wishes would get brought up more often in the ongoing debate, especially when police union reps compare city police salaries to those in St. Louis County — and that word is "pension."
"It's not just apples to apples," says Payne.
In April, St. Louis County voters passed their own half-cent sales tax hike with the express purpose of increasing officers' salaries. That bump now puts an average county officer's starting salary at about $52,000. A brand-new city cop currently gets about $43,000.
Yet the city still has its benefits — some big ones.
Citing the most recent pension data reports, Payne notes that the city contributes 45 percent of payroll to officers' pensions, while the St. Louis County Police Department's pension runs at only 20 percent.
"You're looking at different structures of how people are compensated," Payne explains. "Basically, it's more than just salaries." While St. Louis County cops make more now, city cops have negotiated much fatter retirement payouts.
Still, the salary imbalance has provided leverage to the police union in its contract negotiations with the city, and the union's always outspoken business manager hasn't missed an opportunity to flex it.
"What we want the city to do is pay a fair, competitive wage," says Roorda in an interview.
Earlier this week, he made the media rounds to promote an in-house survey that featured responses from 301 union members, producing results that Rooda extrapolated into a hellish scenario in which a St. Louis desperately short on cops becomes
a crime-ridden "bloodbath."
More than 70 percent of the officers who responded to the survey said they had either applied to other departments or were planning to do so.
"If the pension benefit is as wealthy and lucrative as Paul Payne asserts it is," Roorda says, "then it's still not lucrative enough to keep those officers from applying at higher-paying departments."
There's also a matter of commitment. Although
the bill
to place the tax hike on the November ballot stipulates that its annual revenue — estimated at $19 million — would be used "solely for the purpose of providing revenues for the operation of the department of public safety, including hiring more police officers, police and firefighter compensation, and enhanced law enforcement services," it doesn't include specific earmarks. Last month, the city's released its own estimated breakdown of the revenue: $13 million would go to the police department, encompassing $8.2 million for salary increases and $3.4 million reserved for the pension fund.
If the city voters do approve the sales tax increase in November, officials say, city cops would see their salary increase by $6,000 annually, and their pension would grow each year by $4,000.
That's not good enough for the police union.
In a letter
to its members sent earlier this month, the union's executive board excoriated the city for signaling that it would send $3.9 million of the tax hike's potential revenue — coming from an automatic increase in the use tax — to fund social programs that wouldn't raise cop salaries. Those programs, the city argues, offer substantial contributions to public safety. The union's letter derisively called these "pet projects."
And despite the strong language of the bill, Roorda maintains that until the city formally hammers out a contract or adds specific guarantees, the union will consider the city's estimated allocations as just that — estimates, nothing more.
"It's not too late to fix this before we decide what we're going to do when it comes to endorsing this sales tax proposal or not," Roorda says. "We need to have some verifiable agreement that our officers are going to get their fair shake out of it."
It all depends on your definition of "fair." And while the city and police union seem to be tangled in an tense match of hardball negotiations and flanking maneuvers, the police department has apparently resorted to
pouring overtime dollars down the drain
to make up for a staffing shortage of about 100 officers. (That's even though the city
still
has more officers per capita than just about any department in the country,
according to FBI statistics
.)
It's not a sustainable situation, says University of Missouri-St. Louis criminologist and policing expert David Klinger.
In a high-crime city, with resources already stretched, "it makes perfect sense that there are serious concerns among police officers about being able to do their jobs and promote public safety," says Klinger. And sure, that pressure can also come in handy at the negotiating table.
Case in point: the union's survey. Klinger cautions that report's conclusions run the risk of presenting an overly broad picture. Although the survey covered about one-quarter officers on duty, the union's final report includes charts and data extrapolating its members' answers to the entire department. Granted, Klinger says the fact that the majority of respondents are looking at other jobs should worry city residents, but "that's a dangerous step to generalize from 25 percent to what the entire group is thinking."
We may know the mindsets of the union's disgruntled members, but for individual officers, it's not clear whether the city's pension program is generous enough to stem Roorda's doomsday scenarios. Klinger suggests that all the money the city is pouring into pensions may be less attractive than if the department increased pay in the short term.
"Most people have a short-time horizon. Some officers will look at that pension and other officers won't," predicts Klinger. "Some officers will only look at 'What is my paycheck now?'"

Follow Danny Wicentowski on Twitter at @D_Towski. E-mail the author at Danny.Wicentowski@RiverfrontTimes.com