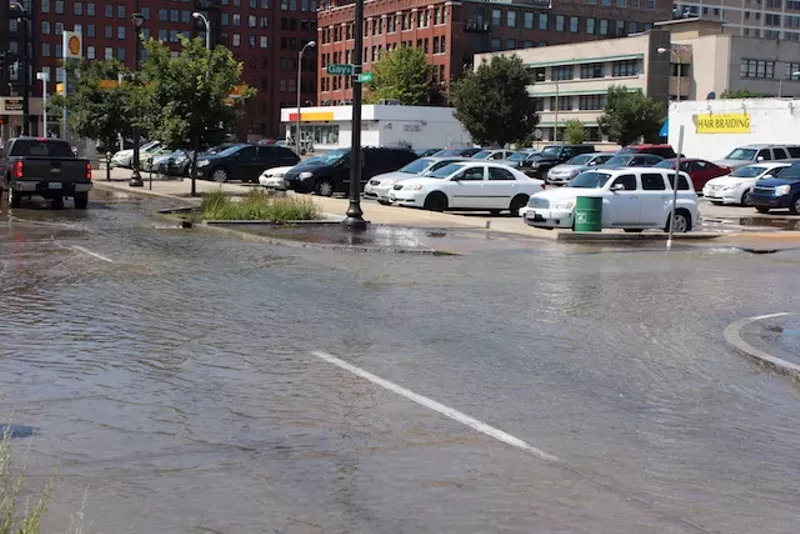 PHOTO BY QUINN WILSON
Water pooled in downtown St. Louis around 11:30 a.m. as a scorching heat wave continued.
St. Louisans spending time downtown today faced an uphill battle in their efforts to not spontaneously burst into flames, as
a devastating heat wave
coupled with a water main break to make buildings there all but uninhabitable.
The break occurred just before 4 a.m. Friday morning at 13th and Convention Plaza, flooding the streets with standing water. Crews worked through the morning expecting to have the break under control by 7:30 a.m.,
according to News 4 (KMOV)
, but a problem with a valve at Tucker and St. Charles delayed their efforts.
According to a press release from Koran Addo, spokesman for Mayor Lyda Krewson, that break threatened to increase temperatures in the buildings downtown, leaving melted puddles of charred flesh where the city's office drones once sat.
"A water main break at 13th and Convention streets has resulted in a drop in water pressure in cooling towers in some downtown buildings," the statement reads. "The loss in pressure will mean higher temperatures in many downtown buildings."
PHOTO BY QUINN WILSON
Cars on Tucker Boulevard cruised through standing water.
The City of St. Louis Water Division worked all morning to restore water pressure to the affected buildings, as well as adjusting the pressure in unaffected parts of its network in order to compensate for the break. According to St. Louis Director of Operations Todd Waelterman, the break was fixed as of around noon.
That's good news, since temperatures are expected to reach 107 degrees tomorrow —
hotter than actual hell, we understand
, and more than enough to incinerate anyone unlucky enough to be putting in hours over the weekend.
But might we offer some advice to those working downtown today? It's not worth it, guys. This is what playing hooky was
made
for. Get the hell out of there, save yourselves, while there is still time! Beat the heat by wandering into the Mississippi River with all of your clothes on.
Even if you're carried away by the current, it's gotta be better than this!