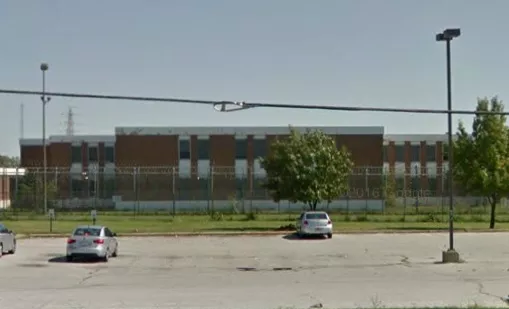 Image via Google
Inmates in the St. Louis are begging for help from the heat.
Update 4:13 p.m.: State Rep. Joshua Peters (D-St. Louis) is asking the state to step in to investigate and improve conditions at the St. Louis workhouse medium security jail. In letters to House Speaker Todd Richardson (R-Poplar Bluff) and Dr. Randall Williams, director of the state Department of Health and Senior Services, he describes the facility's conditions as "deplorable." Aside from the heat, Peters says he toured the workhouse recently and noticed mold in the cafeteria as well as an infestation of insects and vermin. (The full letters are posted at the bottom of the story.)

Peters, whose district is home to the jail, says the city has "shown little concern for the health and safety of the inmates." He is requesting a special committee to inspect the jail and to hear testimony.



The original story continues below.
Inmates at the city workhouse say they're roasting inside the medium security jail.
Prisoners can be heard shouting out of the windows, begging for help.
"Help us!" yell the detainees in a widely circulated video. "We ain't got no A/C!"
The majority of the two-story facility is without air-conditioning. Built in 1966, the jail sits at 7600 Hall Street along the north riverfront and held 770 inmates as recently as last month, according the city Department of Public Safety's monthly report. Long a source of controversy because of its miserable conditions, critics have repeatedly tried to persuade city leaders to shut it down.
Corrections Commissioner Dale Glass told KMOV
he's set up cooling stations inside the jail, and medical help is available for any health issues with the heat.
"I'll do what I can with the resources I have, and my main objective is to make sure that although it's hot, it's safe," he told the station.
Glass didn't immediately respond to
Riverfront Times
' request for comment.
The National Weather Service has issued a warning about a "dangerous" heat wave in St. Louis that will continue through Saturday and possibly longer. Temperatures are expected crest 100 degrees, with heat indices ranging between 100 and 110.
A video showing the jail as inmates scream was
posted online on Tuesday and had been shared more than 3,600 times
in 24 hours. Activists are planning an emergency protest beginning at 7 p.m. on Friday outside the workhouse.
"Bring post and pans to bang on, or anything that will make a loud noise so folks can hear us,"
reads an announcement
. "It's going to be hot, but it's the least we can do to support folks on the inside who are even hotter."

We welcome tips and feedback. Email the author at [email protected] or follow on Twitter at @DoyleMurphy.