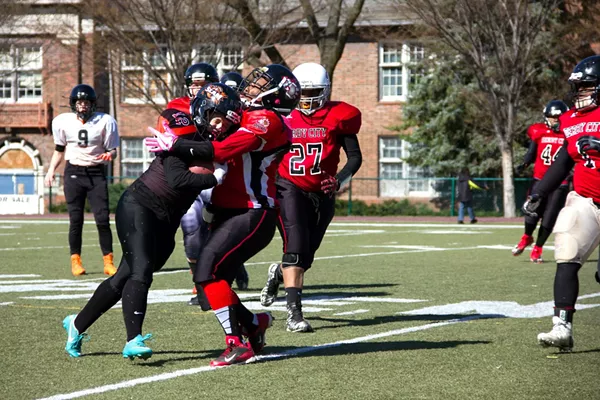 Photo via Danny Wicentowski
St. Louis SLAM running back Taylor Hay crashes into a defender during a March scrimmage.
Winning back-to-back championships is no easy feat — just ask the St. Louis Rams. And while that particular accomplishment eluded our city's now-departed NFL team, it's within reach of the St. Louis Slam.
The Slam's roster — particularly the rookies — have come a long way
since RFT profiled the team's training camp back in April.
One year after taking the title of Women's Football Alliance Division II champion, the Slam finished its 2017 regular season 9-1. The team lost only to rival Chicago and has cleaned up its playoff opponents by a combined score of 112-29.
Up next: the WFA championship in Pittsburgh this Friday, July 21. Fittingly, the opponent standing in the way of the Slam notching two championship titles in a row is
the same team they beat for the trophy last year, the Tampa Bay Inferno
.
"It's definitely always harder to beat a team twice," says Slam linebacker Tiffany Pugh, now playing her eighth season. "We've been in that position before, and we put in extra work so we're not on the losing side again."
Rarely do the Slam find themselves on the losing side, and the team's recent run of dominating victories has been led by a suffocating defense and a veteran offensive line.
The offense is no slouch, either. Exhibit A: This diving catch in the corner of the end zone, executed to perfection by wide receiver Kaylee Neutzling during a May 13 home game against the Kansas City Titans.
"Everyone wants to be the ones to knock off the defending champs," notes Pugh. So far, though, few seem able to slow the Slam's charge for a second championship. One more game to go. And after a season of bruising hits and untold hours of practice, there's just a little more football left to be played.
"We're going to finish what we started," Pugh says.

Update:
You can watch the official stream the WFA Division II championship
here
.

Follow Danny Wicentowski on Twitter at @D_Towski. E-mail the author at Danny.Wicentowski@RiverfrontTimes.com