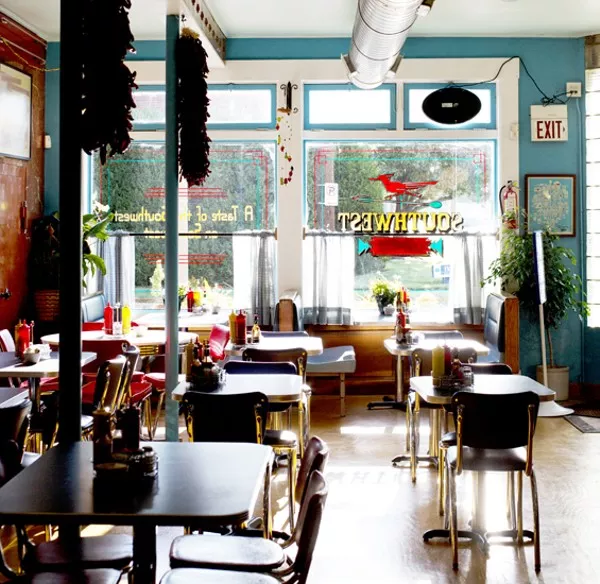 PHOTO BY JENNIFER SILVERBERG
Southwest Diner is one of the employers who's vowed to keep paying employees at least $10/hour, even as the state rolls back a minimum wage increase.
Employers who roll back the minimum wage increase passed by the city of St. Louis — which was recently blocked by the state of Missouri — will face public shaming and even protests.
That's the word from the Fight for 15 group, which pushed hard to get the city's Board of Aldermen to approve the wage increase from $7.70 to $10 an hour in 2015. After a lengthy legal battle, however, the legislature swooped in this year and blocked the city's efforts after the increase had already gone into effect.
Governor Eric Greitens has indicated that he will take no action on the state bill preempting the city's increase. If he doesn't act by this Sunday, July 16, that bill will become law on August 28.
And that could mean a pay cut for many lower-wage workers in St. Louis. Some large employers, including Schnucks, have indicated they will drop back to what's mandated in union contracts, not the higher hourly rate briefly being paid.
But Fight for 15 has a few words for anyone thinking about dropping back to $7.70 an hour — basically, not so fast.
The group released a statement this morning saying that they'd won support from local businesses and a coalition of ministers, and planned to push employers to do what the law will not.
The "Save the Raise" campaign will aim to use the power of persuasion (and public pressure) to coerce employers to pay more than the law requires. Businesses that pledge to honor the city-approved minimum will be listed on
www.SaveTheRaise.org
and will be given signs showing their support.
Notes the statement, ominously, "The campaign also pledged to protest any employers that show any sign they plan to roll back wages for workers."
Among those signing on for the increase is Jonathan Jones, owner of the Southwest Diner.
"Even if Governor Greitens allows this cruel and unjust law to roll back wages for thousands of St. Louis workers, I'm going to keep the increase in place," Jones says in a statement. "It's right thing to do for my employees and the smart decision for my business. Businesses that pay their workers a decent wage have lower turnover and improved morale. And the more businesses that take the pledge, the stronger our economy will be because workers have more money to spend locally."
Adds the Rev. Starsky D. Wilson, "This is a defining moment for St. Louis employers and our community as a whole. We must choose the path of compassion and justice and reject the view of politicians in Jefferson City who want to make it harder for working people to feed their families. Over the coming weeks faith leaders across the city are going to carry a simple message to their congregants: we must save this raise."
We welcome tips and feedback. Email the author at sarah.fenske@riverfronttimes.com