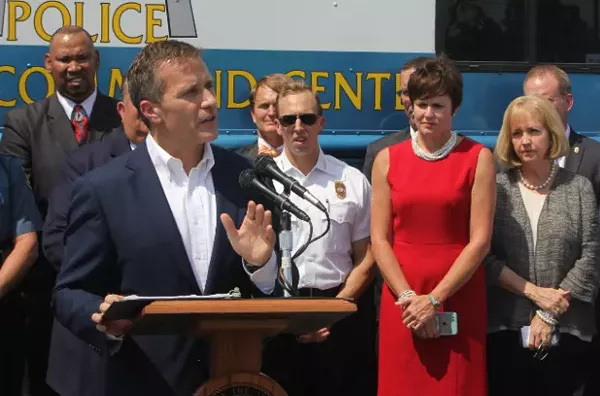 Photo by Doyle Murphy
Gov. Eric Greitens pledges state troopers to patrol highways in St. Louis.
Gov. Eric Greitens on Monday unveiled a new, enforcement-heavy plan to fight crime in St. Louis.
"The days of inaction, the days of excuses are over," Greitens said during a news conference in north city's Baden neighborhood.
The meat of the plan involves sending state troopers to patrol interstates in the city, which are largely un-policed as city cops focus on neighborhoods. Greitens also promised the state departments of Corrections, Social Services and Mental Health would provide additional services to St. Louis.
"The time for talk is over," said Greitens, who was flanked by police officers and state and city officials. "Today, we've come together to take action."
Parts of the Republican governor's speech in the parking lot of the Riverview Plaza strip mall were drowned out by protesters, who blasted the governor's support for state legislation that will reverse a city-wide minimum wage increase.
"Pay the workers!" protesters shouted. "Don't incarcerate them!"
Photo by Doyle Murphy
Protesters blast Greitens over legislation that will reverse St. Louis' minimum wage increase.
Pierre Coney, a 21-year-old Waffle House server, says a living wage would do more to help St. Louis and prevent crime than increased patrols and arrests.
"We work twelve-hour shifts, seven-hour shifts, eight-hour shifts, doubles at different jobs, and we're still not making it," Coney says.
St. Louis had increased the minimum wage to $10 an hour from $7.70, but new legislation from state Republicans bans cities from setting their own bar when it comes to wages. Greitens has said he is allowing the bill to pass without vetoing or signing it — a move critics have called cowardly, but that will effectively overturn the city's increase as of August 28.
St. Louis Mayor Lyda Krewson has opposed the governor on the issue of the minimum wage, but she said the city would welcome the state's support when it comes to fighting crime. The former longtime alderwoman from the Central West End campaigned on a law-and-order platform, but the early results have been mixed at best. City homicides have already topped 100 for the year, and the police union that backed her during the election has all but declared war on her, sending out a letter to members on Friday that blasted Krewson for allegedly breaking promises to raise officers' salaries. (That's even as she's pushed for a sales tax increase to do just that — albeit not to the funding level the police union desires.)
The mayor said Monday that St. Louis taxpayers need help from the state.
"We don't have a crime problem," Krewson said. "We have a crime crisis."
Under Greitens' plan, the state Department of Corrections is expected to emphasize new re-entry programs for inmates leaving prison. The Department of Social services will boost trauma counseling at schools, and the Department of Mental Health will increase crisis-intervention and de-escalation training for law enforcement.
The extent of the aid and full details are still a little murky. So far, Greitens' staff has distributed only a bullet-point outline of the initiative.
Acting Police Chief Lawrence O'Toole, who attended Monday's event, said the addition of troopers on highways is badly needed. Right now, there is little to no police presence on the interstates that cut through the city.
"I don't have the manpower," O'Toole said. "I'm 114 officers short as I stand here in front of you. My focus has to be in the neighborhoods, and it will continue to be in the neighborhoods."
Greitens rode along on the state troopers' first patrol on Sunday night. Before they set out, he addressed the new unit, praising them as he warned they were about to head into "the most dangerous city in the United States of America."
A recording of the pep talk was posted to Greitens' Facebook page on Monday, shortly before his news conference in Baden.
"You guys ready to do this?" the governor asked. "Alright. Let's go get 'em. Let's go get 'em."
We welcome tips and feedback. Email the author at doyle.murphy@riverfronttimes.com or follow on Twitter at @DoyleMurphy.