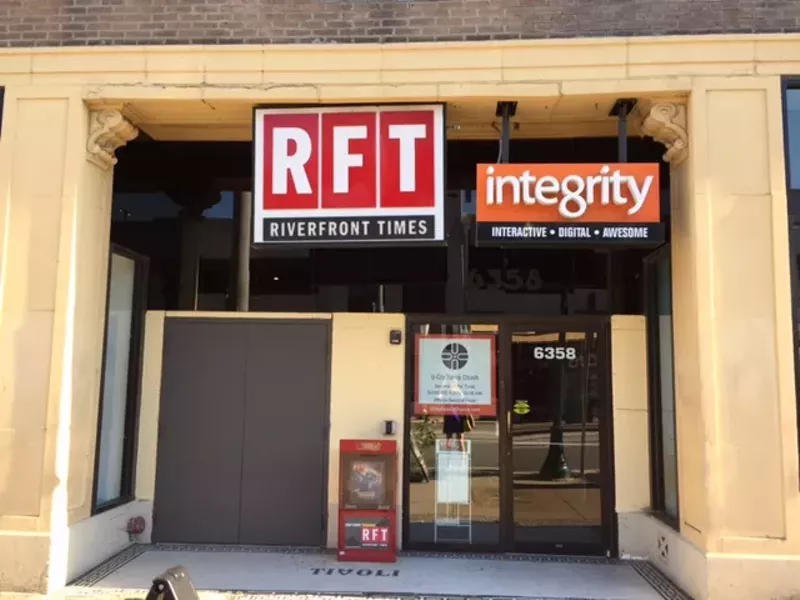 PHOTO BY SARAH FENSKE
Goodbye to all that.
Last year, I made one of the dumber decisions in a life that's been full of them: I talked to the media.
I didn't seek out the coverage (I'm not
that
stupid). But Alex Ihnen, the journalist behind NextSTL.com, had called to ask if it was true the
RFT
was preparing to move to the Central West End, and I decided I couldn't be one of those people who says, "Ooh, sorry, I can't talk until I have a signed lease." Refusing to wait until things are official, I've long believed, lets the lazy reporters win. Alex had the facts; he deserved the scoop. So I
confirmed it
, and
then wrote an essay of my own
.
But there is a reason smart people wait to talk until there's a signed lease — unsigned agreements have a way of falling through. As did ours in the Central West End. The paper's owners couldn't decide if they wanted to buy a space or lease it, our landlord didn't want to let us out of our lease early, and the next thing you know, we'd decided to bide our time in University City for a bit. And until I knew for sure what we were doing, I thought it best to shut up.
The result is that, for the last year and a half, all of us at the
RFT
have been dealing with a constant wave of confusion — "how's your mansion?" being the best, confused freelancers showing up for meetings in the Central West End being the worst. Some would-be muckraker even reached out for comment; the Show-Me Institute was a previous tenant of the same building, and he decided we must have made a deal with the devil, a.k.a. Rex Sinquefield. (Suffice it to say, Sinquefield did not own the building in question, giving me new appreciation for what Lyda Krewson and Tishaura Jones must go through daily.) We fielded endless calls from moving companies, furniture purveyors and Internet providers, all seeking to set up a meeting to "discuss your needs."
The calls finally slowed to a trickle a few months ago, which can only mean one thing: It's time to announce once more that the
RFT
is ready to move. Only this time, we've got a signed lease in hand.
M
ost of the stuff I said last time around
should be said again this time. We are indeed moving back to the city — something that is important to us. And yes, we will be paying the earnings tax, no request for abatement or special perks. The addition of one percent of income from a few ink-stained wretches ought to turn around the city's deficit problems right quick!
Still, there are a few differences worth noting. This time, we're moving to 308 N. 21st Street — so instead of dreaming of drinks at Rosie's Place, we've got our eye on Schlafly Tap Room. This time, we're looking to make the move in August, exactly 21 years after we arrived in the 'burbs. And this time, I'm never saying never to
any
potential cover subjects. (Who knew the Schlafly clan
would get so interesting
?)
Oh, and hey, here's one more thing. This time, it's really happening.

Sarah Fenske is the editor in chief of the Riverfront Times. Follow her on Twitter @sarahfenske or email her at sarah.fenske@riverfronttimes.com