Photo by Danny Wicentowski
Drop something?
If you happened to be commuting to south city last Thursday afternoon, you may have spotted some something weird by the Highway 40 overpass near IKEA. Papers, specifically. Papers. Everywhere.
As one passing motorist put it, the area near Vandeventer and Market looked like "an office exploded."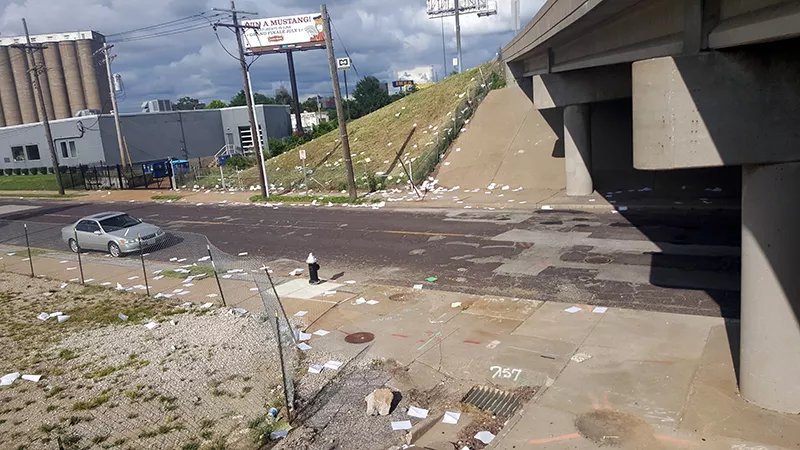 Photo by Danny Wicentowski
When
RFT
arrived to evaluate the scene around 5 p.m. Thursday, the papers — seemingly hundreds — had collected against nearby fences, and more documents and folders were scattered across on the grassy embankments next to the highway. The grass alongside the highway, too, was strewn with documents.
As for the contents of those wayward pages? A sampling of a few dozen included several work orders dated between 2011 and 2013, related to construction and repairs to St. Louis Lambert International Airport's Terminal 1. There were also workforce diversity reports with worker's full names, addresses and the last four digits of their social security numbers. Some documents showed equipment diagrams and terminal maps. Most of the papers and memos showed the letterhead of K&S Associates Inc., a general contractor based in St. Louis.
The company's owner, Tom Kraska, confirmed that the documents had come from his company — but says he never intended for the records to wind up all over a highway overpass.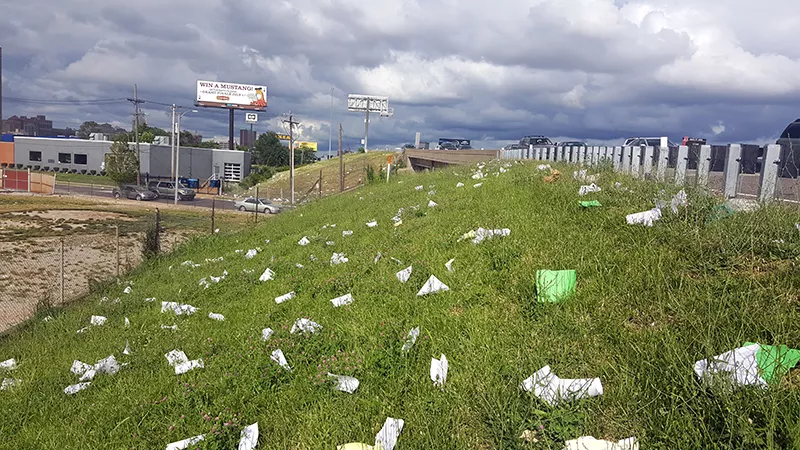 Photo by Danny Wicentowski
According to Kraska, the records were old accounting documents destined for a landfill.
"We were cleaning out our archives and we had a trash hauling company get it, and the driver put a tarp on top of it; my guys saw him him do it," Kraska explains. "He hit a bump near Kingshighway, some large box of Lambert documents flew out of the truck and all over the highway. It was a big disaster. After they checked the tarp with the driver they found a three-foot rip in it."
Kraska stresses that the vast majority of documents were already public record and could be obtained through a Sunshine request. However, among the piles of documents left in the grass were old checks printed on pink slips of paper. Although staffers combed the area Thursday and Friday and then again yesterday, Kraska says he can't be sure if they recovered them all.
"We had to cancel the checking account we've had for 25 years," he says. "I'm sick over this, I've got so much of our personal documents out there. The dumpster company is naturally upset with their workers, they've apologized profusely."
Next time, maybe, think about a shredder?
Photo by Danny Wicentowski

Follow Danny Wicentowski on Twitter at @D_Towski. E-mail the author at Danny.Wicentowski@RiverfrontTimes.com