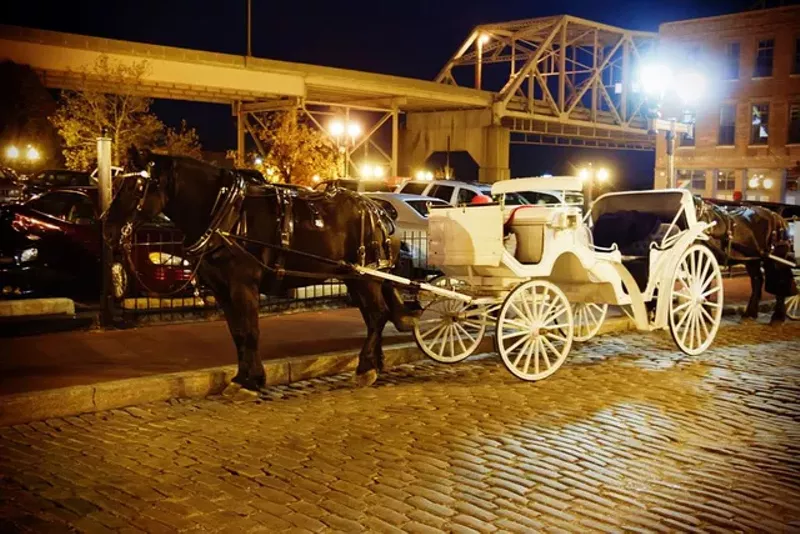 On Monday,
Riverfront Times
broke the news that the Metropolitan Taxicab Commission, or MTC,
hasn't enforced its street regulations on horse carriages in six months.
Six months! The revelation has taken at least two St. Louis aldermen by surprise, and city officials are now scrambling for a solution — even as the horse carriages continue to operate without restrictions on St. Louis streets.
Scott Ogilve, who represents 24th Ward, tells
RFT
that he hadn't been aware of the MTC's pullback until Monday. He finds it unusual, he says, that the city allows "essentially unregulated" horse carriages to share the streets with vehicles, especially during the busiest stretches of rush hour. On Monday evening, Ogilve
tweeted
, "I'm suddenly wondering if we need carriage horses downtown in traffic, especially since no one is enforcing any rules."
And Aldermen Jack Coatar, whose 7th Ward covers much of downtown, also weighed in on Monday, responding to an alarmed tweet from a resident.
The lawsuit referenced in his Coatar's tweet concerns an
MTC cease-and-desist order
issued in September against Brookdale Farms, a horse carriage company that's been in business for decades. When a St. Louis county judge struck down the cease-and-desist order, however, the MTC responded by basically throwing up its hands and saying,
fine, we'll take our regulations and go home
.
Ever since, horse carriages in both the county and city have operated
without the oversight
of the MTC.
In an interview, Coatar says that he's reached out to the city counselor's office and Mayor Lyda Krewson, but the question of who actually possess the authority to reign in the horse carriages remains tangled.
"I don't know if this is something the city should be regulating, or if the taxi commission can tweak their own rules to give themselves the authority," Coatar says.
He notes that he's received complaints in the past about horse carriages snarling traffic and causing accidents. "I don't want to see these guys completely unregulated. I'm happy to talk about introducing legislation if that's the route people want to go. But we also have to do an analysis of it, because if the city takes this on in a regulatory capacity, what's the cost associated with that? Can we actually do it?"
While city officials weigh their options, it's worth noting that St. Louis' health department maintains that it did not follow the MTC's example, and that it continues to honor its side of a "memorandum of understanding" it signed with the MTC in 2015.
"There's been no disruption in checking on the health and welfare of the horses. That's always been under the purview of the health department, nothing has changed in that regard," says Koran Addo, spokesman for the mayor's office.
As for the street regulations that would keep horse carriages from crowding rush hour traffic in downtown, Addo points out that the city has the power to enforce who gets to use its roads, and when.
"We have control of the streets," he says. "If the MTC can't or won't do it, it's our position that we could step in and enforce those regulations."

Follow Danny Wicentowski on Twitter at @D_Towski. E-mail the author at Danny.Wicentowski@RiverfrontTimes.com