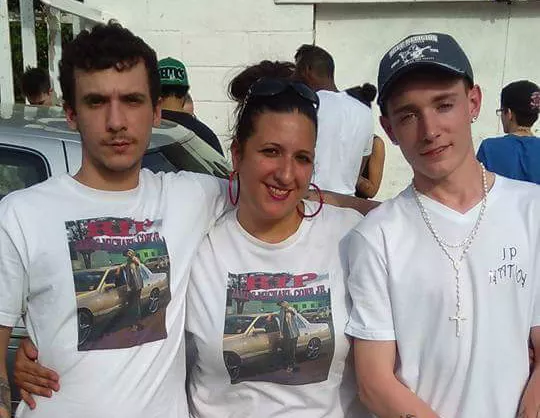 Photo courtesy Julian Cobb
Isaiah Hammett (left) with mother, Gina Torres, and friend, Julian Cobb.
St. Louis city police officers on Wednesday stormed a south city home and killed a 21-year-old inside, authorities say.
Acting police chief Lt. Colonel Lawrence O'Toole tells reporters Isaiah Hammett opened fire with high-powered rifle on members of the SWAT team, who shot back.
"I can describe it only as being a firefight that was inside the residence," O'Toole says. "Numerous rounds were fired."
When it was over, Hammett was mortally wounded. None of the officers was hurt.
But neither Hammett's mother, Gina Torres, nor some friends of Hammett believe the police version. Torres says her son was home with his grandfather, who uses a wheelchair, when they heard someone smashing through the door. She says Hammett pulled his grandfather to the floor to protect him.
"They thought someone was trying to break in," Torres says.
O'Toole says officers in the city's first district were investigating allegations that Hammett was selling drugs and weapons at the house, which is located in the 5400 block of South Kingshighway, just south of Christy Park.
Eight members of the city SWAT team swarmed the single-story bungalow at about 11:20 a.m., forced open the door and tossed a flash bang explosive inside, O'Toole says. The acting chief says Hammett began to fire almost immediately as they entered.
At a news conference, O'Toole described as Hammett as a man with a record, who put officers' lives in danger. The acting chief hypothesized that Hammett had spotted the SWAT team through surveillance cameras mounted on the house and was lying in wait as officers approached.
Image via SLMPD Twitter
Acting police chief Lt. Col. Lawrence O'Toole (left) describes the rifle he says a suspect used to shoot at police.
"I can tell you this suspect fired numerous shots at police officers," O'Toole says.
The allegation that Hammett was a shoot-first drug dealer conflicts with the man described by friends and family, and Hammett's record shows only a misdemeanor conviction for possession of less than 35 grams of marijuana, according to online court documents. Julian Cobb says he was a video game collector, a guy who seemed the least likely of any of his friends to get in trouble, much less shoot at police.
"All I know is he's a really good dude," Cobb says. "He didn't deserve this."
When Cobb's older brother
was murdered along with another friend in 2015
, Hammett and his mother joined the family to mourn. Now Hammett's death has reversed those roles.
Torres says someone shot up her son's car a couple of weeks ago on Delor Street, and that police had hounded him and his friends for years. She was waiting for more information this afternoon when a chaplain in a white SUV arrived and ushered her and a handful of relatives inside. Friends said they were headed to the morgue.
Photo by Doyle Murphy
St. Louis city police blocked off the neighborhood near the house in the 5400 block of South Kingshighway.
We welcome tips and feedback. Email the author at doyle.murphy@riverfronttimes.com or follow on Twitter at @DoyleMurphy.