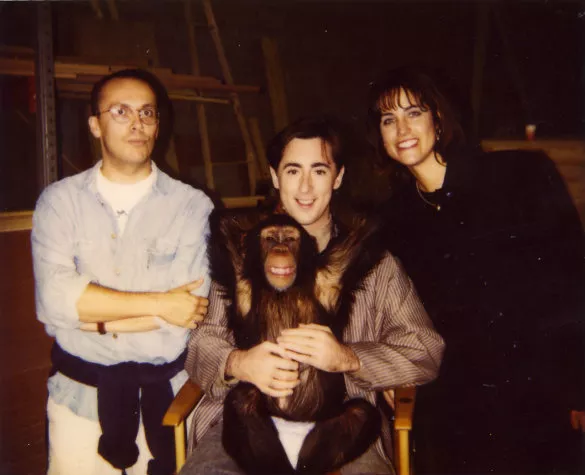 Photo courtesy of PETA.
Actor Alan Cumming and Tonka (center) worked together in the 1997 movie Buddy.
The Missouri Primate Foundation in Festus, Missouri, is not new to controversy. Animal advocacy group PETA has been targeting the non-profit for some time now,
alleging that it houses chimpanzees in small cages and filthy conditions
and that owner Connie Braun Casey has "been repeatedly cited by the government for violations of federal animal-welfare regulations."
Now Hollywood is coming to the rescue.
Twenty years ago, actor Alan Cumming starred in a film with one of the chimps currently residing at the Missouri Primate Foundation. Tonka appeared in the
1997 film Buddy
, which also features Rene Russo and Robbie Coltrane. And now Cumming, who is also a longtime PETA supporter, has sent a letter to Casey asking her to free the aging chimp — and his fellow residents.
Cumming, a Tony winner
who's also penned a well-received memoir
, writes of getting to know Tonka on the set.
"My character had many scenes with him, and we developed a very close camaraderie during the months when we filmed. By the end of the shoot, his trainers let him groom me. It was a special friendship — one I'll always treasure," Cummings writes.
He goes on to say that he'd hoped to see Tonka a year later at the movie's premiere but was told Tonka wasn't manageable anymore and had been "retired to Palm Springs." He pictured Tonka living in a sprawling sanctuary and was horrified to learn that wasn't the case.
"I just learned, though, that Tonka didn't end up at a sanctuary in Palm Springs but inside a cage in Festus, where he isn't able to have complex social relationships with other chimpanzees and doesn't have meaningful outdoor access to run, climb, or play," Cumming writes.
Whether the letter from the famous activist will lead to changes is anyone's guess. But odds don't seem high. When PETA began targeting and threatened to sue the Missouri Primate Foundation in late 2016,
the facility countered back by filing a lawsuit against PETA on December 30
. That litigation continues in federal court.
You can read Cumming's letter to the Missouri Primate Foundation in its entirety below.
Dear Connie,

Greetings from New York. I'm writing to you about a mutual friend: Tonka.

I worked closely with him on the 1997 film Buddy. My character had many scenes with him, and we developed a very close camaraderie during the months when we filmed. By the end of the shoot, his trainers let him groom me. It was a special friendship—one I'll always treasure. I hoped to see Tonka the following year at the film's premiere but was told that he was no longer manageable and had been "retired to Palm Springs." Over the past 20 years, I imagined him living out his post-Hollywood years on a sprawling sanctuary.

I just learned, though, that Tonka didn't end up at a sanctuary in Palm Springs but inside a cage in Festus, where he isn't able to have complex social relationships with other chimpanzees and doesn't have meaningful outdoor access to run, climb, or play.

Connie, even though we've never met, I believe in my heart that you feel great affection for Tonka and the other chimpanzees at MPF. But lifetime care for a dozen sophisticated, intelligent chimpanzees requires a team—and terrain where they can roam and socialize. As an old friend of Tonka's, I respectfully ask that you allow him and the chimpanzees at MPF to be sent to accredited sanctuaries where they can enjoy some semblance of the life that nature intended for them.

I hope to hear from you soon.

Kindest regards,

Alan Cumming