Photo by Doyle Murphy
James Williams says St. Louis homeless shelters are too crowded most nights.
Most nights, James Williams just tries to keep moving.
"The park closes at ten," he says. "So I walk the streets all night."
The 65-year-old has been homeless for about four or five months, ever since his lease ran out and he did not have enough money to keep up payments, he says. On Thursday, he joined about 150 others north of City Hall in the corner of Kaufman Park, where Rev. Larry Rice and workers from his recently closed homeless shelter handed out bus passes, toiletries, bottles of water and bags of chips.
People here say there are simply not enough beds. The city had promised to find room for those displaced in April when Rice was forced to close New Life Evangelistic Center, the controversial shelter he had operated for more than four decades. Rice lost his occupancy permit in 2015, but persisted for more than two years in staving off shutdown.
When the city finally won its long legal battle against Rice's operation
, municipal leaders opened two 75-bed temporary shelters to fill the vacuum. A makeshift women's shelter in the 12th and Park Rec Center closed on May 23, ahead of a 60-day schedule. Eddie Roth, St. Louis' director of human resources, says ten of the 60 women and nine kids who were admitted after NLEC closed left on their own. The rest were placed in other shelters before it closed or long-term housing, he says — the city's ultimate goal.
"Now we're turning our attention to the guys," he says.
The city initially set up cots in the St. Louis Weed Control warehouse but faced a class-action lawsuit from nonprofit law firm ArchCity Defenders and lawyers from a Saint Louis University Law legal clinic, who argued the conditions were inhumane. The two sides
agreed the warehouse would be closed by Monday
, although the city says it had always planned to shut it down in June.
As the deadline approached, the city signed a ten-month lease to set up another
75-cot temporary shelter at the former Horizon Club
, a vacant drop-in center at the corner of Pine and North 23rd streets. Roth says they're implementing a six-month "wind-down" program to guide the men toward more permanent housing. The goal is to cut down the number of people in temporary shelters to zero or at least drop the population to a size that could be absorbed into Biddle House, a full-service shelter on North 13th Street.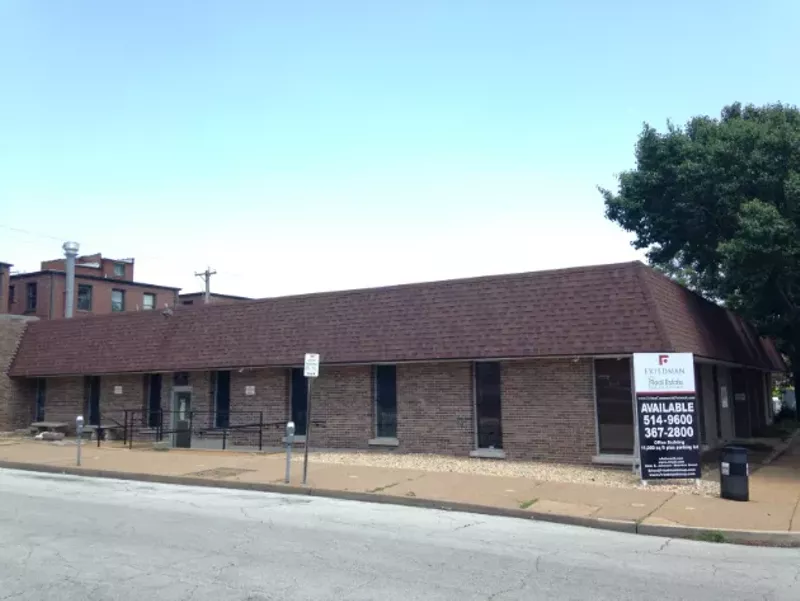 Photo by Doyle Murphy
The city has leased the former Horizon Club for a temporary men's shelter.
The city has moved toward a housing-first approach to homelessness, a strategy that prioritizes long-term homes over shelters. Biddle, a 98-bed facility that opened last year, is lined with offices where an array of service providers work with residents on plans designed to move them off the streets for good.
Roth says in the aftermath of NLEC's closure, the city and a network of agencies focused first on the women and children, a project made more difficult because they weren't sure the privately run shelter was actually closing this time, much less how many people were staying there.
"Winding down the women's shelter in six weeks I think shows what we're capable of when we work together," Roth says.
There are fewer facilities for homeless men, but Roth is optimistic they'll have similar success in six months. The city signed a ten-month lease as a contingency going into the winter months, he says.
Rice, unsurprisingly, remains critical of the city's strategy. He says more people land on the streets everyday, and it's disingenuous to talk about decreasing a finite number.
"You took care of that 60 [women and children]," he says. "Great. What about the other 60 that become homeless?"
Ann Perryman, 49, had stayed at NLEC before it closed. She says she never heard about the temporary shelter run by the city, and overcrowding at other facilities left her with few options.
"When they closed, I just got me a tent," she says.
Overcrowding at the shelters is a major problem, according to people at the park on Thursday. Williams says he has waited in line for hours at Biddle House, only to see all the available spots evaporate before he could land one. He carries around a folded note from a doctor, describing his medical ailments and need for emergency housing. But it doesn't do him any good if there aren't enough beds.
"I don't get it," he says. "I don't get the whole system. I don't get it, man."
We welcome tips and feedback. Email the author at doyle.murphy@riverfronttimes.com or follow on Twitter at @DoyleMurphy.