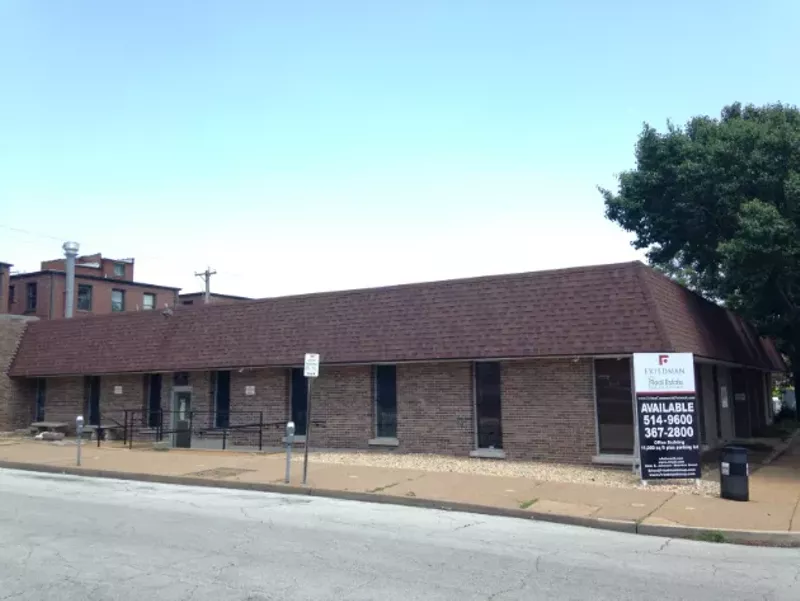 Photo by Doyle Murphy
The city has leased the former Horizon Club for a temporary men's shelter.
St. Louis plans to shut down one temporary homeless shelter and open another next week as it continues to struggle with the fallout of
forcing Larry Rice to close his controversial facility
in the Downtown West neighborhood.
The city has agreed to a ten-month lease for a drop-in center on the corner of Pine and North 23rd streets, just east of Jefferson. The site will replace a 75-cot setup at St. Louis' Weed Control warehouse on North 13th Street.
"The facility looks to be in excellent shape," the city's director of human resources, Eddie Roth, says of the new place. "It was owned and managed by a responsible agency. It's clean and well-kept."
The city has tried to absorb more than 100 people who had to leave New Life Evangelistic Center, which was forced to close on April 2 after a long legal battle. Rice had operated NLEC as a "shelter of last resort" since the 1970s, clashing often during the past decade with the city and his neighbors who claimed it had become a pocket of lawlessness that did more harm than good.
Rice has maintained he offered a service
no one else was willing to provide.
When NLEC finally closed, the city promised to find shelter for the people who were forced to leave. It set up a temporary shelter for women and kids at the 12th and Park Recreation Center in LaSalle Park and placed the men at the weed control warehouse, a part of the forestry division.
The women's shelter closed nearly two weeks ago. Roth says 60 women and nine kids moved there after NLEC shut down. Ten decided to leave, and everyone else was placed in long-term housing or another shelter, Roth says.
The makeshift men's shelter was opposed from the start by ArchCity Defenders, a nonprofit law firm that argued the warehouse was an inhumane place to house people. The firm and a Saint Louis University Law legal clinic filed a class action lawsuit against the city. As a settlement term, the
two sides agreed the warehouse would shut down on June 5
, although the city says it had always planned to close it in June.
With the deadline looming, the city considered a variety of options, including erecting a temporary shelter (a city spokesman recently balked at the mention of the word "tent") with metal walls and a canvas roof. The plan was to open it on a lot adjacent to Biddle House, a permanent shelter that recently opened in the Carr Square neighborhood.
Roth says that idea had its advantages, primarily that people staying there would have access to an array of services at Biddle. But it was more expensive ($80,000 to $90,000 for six months versus $5,000 per month to lease the former drop-in center on Pine), and some Carr Square neighbors weren't wild about the city concentrating its homeless services near their homes.
Roth says they're still working out the final details on the new temporary shelter, including whether they'll offer some of the same services as Biddle or just send people over there. The facility had previously been home to the Horizon Club, a 24-hour center for homeless people with developmental disabilities. It was operated by the publicly funded St. Louis Office for Developmental Disability Resources, and closed down last year.
Although the lease is for ten months, Roth says the city is beginning a six-month plan to find long-term housing for the men or integrate them into the city's regular shelter system while they work to find permanent housing.
We welcome tips and feedback. Email the author at doyle.murphy@riverfronttimes.com or follow on Twitter at @DoyleMurphy.