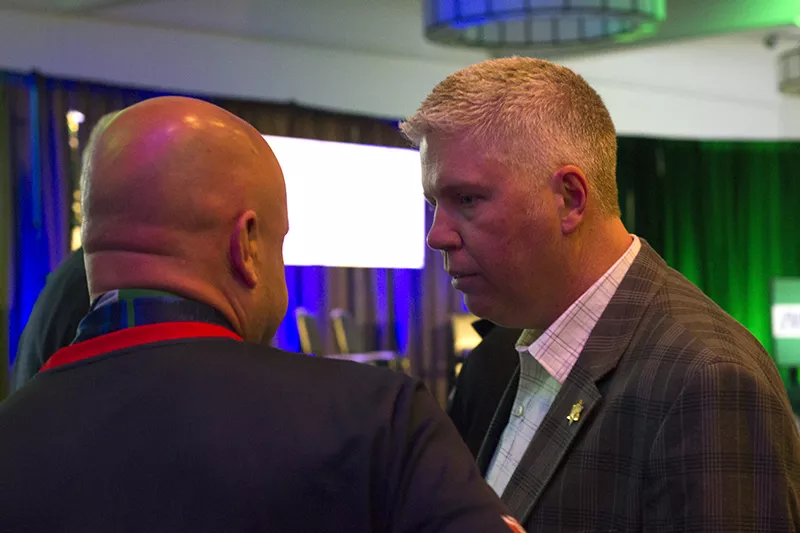 DANNY WICENTOWSKI
Jeff Roorda, spokesman for the St. Louis police union, attending the watch party for the campaign to bring a soccer stadium to St. Louis. Roorda and the union endorsed the tax earmark for the stadium.
The union representing St. Louis police officers has begun running a campaign designed to scare city voters — suggesting in media interviews and paid Facebook ads that the city faces a "dire" staffing shortage.
The only problem? It's just not true.
FBI
statistics for the most recent year available, 2015
, show that the St. Louis Metropolitan Police Department actually has more employees per capita than its counterparts in all but two other large cities in the entire U.S. Only Washington, D.C., and New York City have a higher ratio of police employees to city residents.
And even if you disregard the civilian personnel who staff the department, looking solely at sworn officers, St. Louis is still among the nation's most heavily policed cities. In 2015, the city had 38.3 officers for every 10,000 residents, FBI statistics show — No. 7 in the entire U.S. when it comes to police officers per capita.
The union, which is clearly seeking a leg up in contract negotiations, has posted messages on its Facebook page and in a sponsored campaign on the site alleging that city politicians need to step up.
"County politicos understand that excellent public safety is paramount to economic sustainability and growth. City politicians? Not so much," read one sponsored post.
In
an interview with KSD
K promoted by the Facebook ad, the police union's
controversial
business manager/spokesman Jeff Roorda argued that the SLMPD could be in real trouble thanks to county voters' recent vote to
raise its sales tax to increase officer pay
.
Yes, the city has 1,196 sworn officers and just 315,685 residents. But Roorda argues that the number of officers is certain to drop, with cops defecting to higher pay in the county. And anyway, he argued, the number of SLMPD officers is actually lower than that — once things like maternity, military and sick leave are factored in, he posited, it might be closer to 1,000.
Again, that's simply not true — a police spokeswoman tells us the number of officers on active duty is currently 1,150, which, yes, puts St. Louis among the nation's highest police staffing levels.
Yet
a post on the union's page
urges city residents to call the president of the Board of Aldermen, Lewis Reed, as well as their alderperson, and "ask them to #BackTheBlue and come up with a plan to retain and recruit the Police Officers needed to keep the peace in our neighborhoods."
That has at least one alderwoman hopping mad.
Alderwoman Cara Spencer, who represents an area that includes Dutchtown, notes that contract negotiations are between the mayor, the public safety director and the union — period.
"The city politicians are not negotiating contracts with the police officers association," she says.
Spencer was not aware of the Facebook ads before being contacted by the
RFT
, but she was well-versed in the city's proportionately high number of officers. In spite of that, she believes neighborhoods are being underserved. She notes that in the police district that encompasses her ward, only 90 officers are assigned to patrol. Extrapolating to the six police districts across the city, that suggests that no more than 550 or so officers are assigned to patrol, total.
"That's just 30 percent of the police officers in the city," she says. "That's absurd. We're spending almost half of our city budget on the police department, yet for all that money, we're not getting officers who are patrolling."
On any given night, Spencer, notes, just eight officers are patrolling the district that includes her ward — a wide swath of south city for such a small crew.
Adds Spencer, "We don't have a police resource problem. We have a problem in the distribution of police resources."
Koran Addo, a spokesman for Mayor Lyda Krewson, said the administration would have no comment on the police union's social media campaign. However, Addo noted that he was not aware of any specific proposal on the table from the union, just a general quest for higher wages.
The police union endorsed Krewson in the close-fought mayoral election, although she still ended up calling for Roorda's firing after he blasted her opponent in a
particularly boorish way
. The controversial union spokesman has a long history of
pissing off city voters
. Now the question is whether he can run a campaign that will convince them to buy what he's selling — heading off any exodus of city cops for higher salaries in the county — or whether his combative attitude will turn off the very voters he's trying to woo.
But in the mean time, before city voters start blowing up their representatives' phone lines, they might be wise to take a look at actual staffing statistics in St. Louis. There may be some dire things about the police presence in St. Louis, but the number of officers currently on the city's payroll is certainly not among them.

Sarah Fenske is the editor of the Riverfront Times. Reach her on email at sarah.fenske@riverfronttimes.com or follow her on Twitter @sarahfenske.