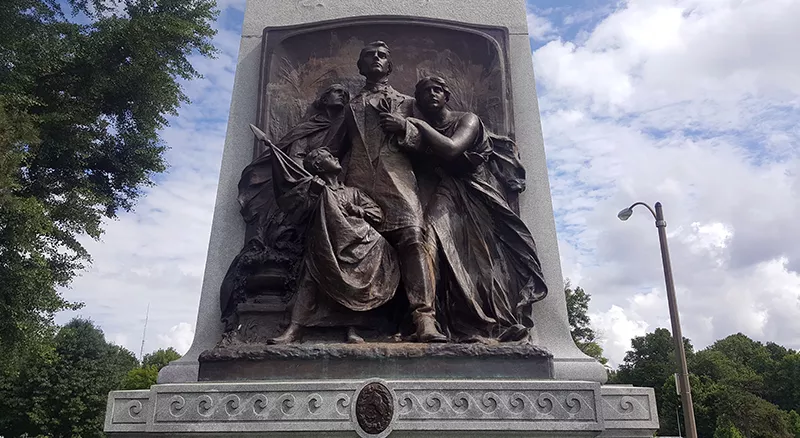 Photo by Danny Wicentowski
Pictured: a "Lost Cause."
In the past week, the Confederate monument in Forest Park
has drawn protests, vandalism
and increased cries for removal. If not for the
estimated $100,000
needed to take down the offending stone shaft, we're guessing St. Louis Mayor Lyda Krewson would be strapping the thing to a moving truck right now.
But where should it go? A cemetery, probably (the city
previously looked at moving it to Jefferson Barracks
). Then again, wouldn't that just be kicking the issue farther down the road of
revisionist history
? We'd just be debating this thing again in a few years. A symbol as sensitive as a 32-foot tower of Vermont granite stamped with the words of Robert E. Lee deserves a resting place that will put this issue to bed,
finally
.
So let's break the cycle. It doesn't matter if the resources come from the city,
a crowdfunding campaign
or a
prankish brewery owner
. We
can
prevent this dumb argument from reoccurring every generation, if only we...
1. Toss it in the River Des Peres.
The Mississippi is too good for a monument extolling the glorious days of legalized slavery.
2. Chuck it onto the highway.
Erect it in the left lane of Highway 270 going north. (It'll be nice to dodge something other than a mattress.)
3. Add an Abraham Lincoln.
Leave the monument where it is, but commission a statue of a shirtless, flexing Lincoln to stand atop it, victorious for all time.
Sort of like this idea
, only more historically accurate.
4. Gift it to Rex Sinquefield.
We don't have any proof, but we'd bet a satchel full of city earnings tax that the guy has a set of house-sized chess pieces. He could probably use a spare pawn.
5. Deploy it as a city fundraiser.
Lay it down in the collection tank of a city-owned Port-A-Potty and charge people $5 to shit on "Southern heritage." We'll be able to gold-plate the Arch by the summer of 2018.
6. Mount it upside-down.
Satanists flip crosses over to show their disagreement; why can't we do the same, right there in Forest Park?

7. Send it to East St. Louis.
If the racist shitbags who mourn the Confederacy really care so much about this thing, what's a little jaunt over the river?
8. Turn it into a putt-putt golf obstacle.
How better to show our utter disdain for the Confederacy than to slap on some windmill blades, bore a tunnel through the base, and send our local junior high school students over for a round or two of mini golf?
9. Ship it COD to Jeff Sessions.
The AG may share
his predecessor's distaste for nudes
, but we doubt he's averse to a little nostalgia for the Confederacy.
10. Throw it into the Bridgeton landfill.
Sink it into the heart of St. Louis' very own raging radioactive garbage fire. We'll either bring about the end of the universe or solve all our problems in one fell swoop.
See how easy that was, guys?