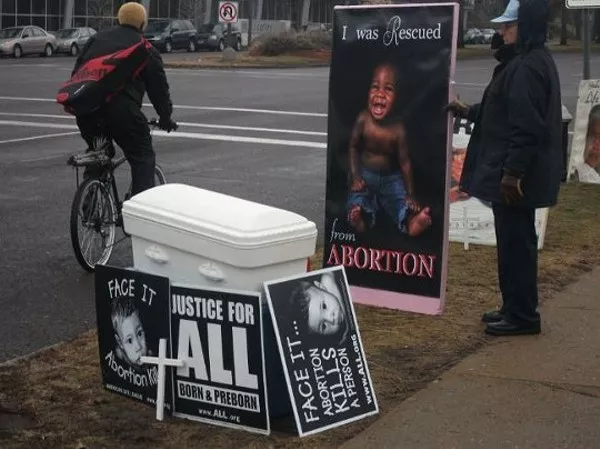 COURTESY OF PLANNED PARENTHOOD
Protesters, pedestrians and those seeking services share the space in front of the city's sole abortion clinic, in the Central West End.
Last year, two high-profile bills were introduced at the St. Louis Board of Aldermen related to abortion rights.
The more basic one, modeled on a law in Colorado, would have created a "buffer zone" at the city's lone abortion clinic, carving out a little protest-free elbow room for women accessing services. The other one, ostensibly more of a longshot, would have made St. Louis a "sanctuary city" for reproductive rights — barring discrimination based on whether a woman had born a child or aborted one.
Surprisingly, the "sanctuary" law
was approved by the board in its final session
— beating back opposition from the Archdiocese. But the buffer zone bill languished in committee, never getting to the floor for a vote.
Now the buffer bill is back, and Alison Dreith, executive director of NARAL Pro-Choice Missouri, believes it has a good shot at success. Not only is the bill now in her preferred committee — public safety instead of legislative — but she believes supporters have the votes to advance it.
She believes the bill is necessary.
"Just the other day I was there, and there was this elderly white male standing in the middle of the driveway," she says of Planned Parenthood's clinic on Forest Park Parkway. "I was just staring at him with my jaw dropped: 'Get out of the driveway!' It's not lawful for them to block the driveway, but it happens all the time."
The bill would create an eight-foot zone around the clinic's entrance. Those dimensions would still allow protesters to set up on site, but ensure that anyone trying to get inside could enjoy a clear path. Alderwoman Christine Ingrassia, who introduced the bill, told
RFT
last year that she wants to balance protesters' first amendment rights with the rights of those seeking services. A bill that's narrowly tailored, like this one, has stood up to legal scrutiny in other states.
Last year, John Ryan, an anti-abortion activist who lives in Pacific, Missouri,
was charged with "making a terrorist threat"
after allegedly making a bomb threat to a Planned Parenthood worker on site. His charge was later reduced to a misdemeanor, and Dreith says he's now protesting in Granite City instead.
Still, she says, the threat of a bad interaction between protesters and patients remains very real. Police statistics obtained by NARAL show that calls to service at the site have almost doubled in the last year, from 38 to 66.
Says Dreith, "The vulgar words said to patients are not only intimidating, but are also stopping patients from accessing the health care they need." She adds, "Regardless of whether John is here or not, the problem hasn't gone away."

We welcome tips and feedback. Email the author at sarah.fenske@riverfronttimes.com