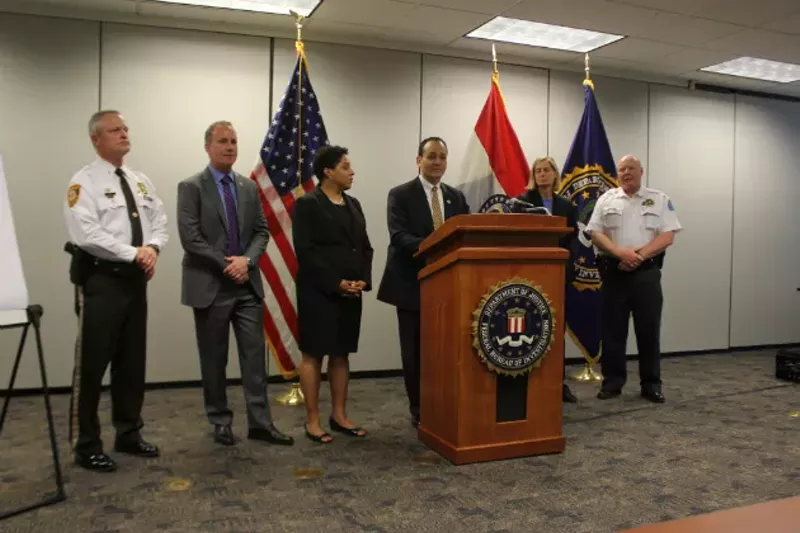 Photo by Doyle Murphy
FBI Special Agent in Charge William Woods (center) and members of Mission SAVE announce indictments of alleged gang members.
Fifteen members of a violent gang are facing federal drug charges, authorities say.
The Cochran Crips warred with rivals and sold crack north of downtown in the Carr Square and Columbus Square neighborhoods, officials from the FBI and DEA said today at a news conference.
Twelve St. Louis men with nicknames including Greasy, Big Boy and Rumble and three men from Arizona have been indicted as a result of investigation conducted by Mission SAVE, a two-year-old law enforcement partnership between the Justice Department, FBI, DEA, St. Louis Circuit Attorney and the state, along with city and county police.
"Mission SAVE targets the most violent offenders that all our intelligence agencies believe are out there," says William Woods, Special Agent in Charge of the FBI in St. Louis.
The partnership is responsible for making a number of high-profile cases in the metro region, including the
arrest of TanCo and MassageLuXe founder Todd Beckman
, who is charged along with four co-defendants of holding a Maplewood man captive last November until his family paid a $27,000 ransom.
This isn't the partnership's first gang-related work in St. Louis. James Shroba, special agent in charge of the DEA in St. Louis, says a Mission SAVE operation to dismantle the Downtown Taliban gang in March prevented a bloody battle with a rival crew.
Investigators learned a Downtown Taliban leader named Damian Lewis and his underlings were planning a hit after Lewis' brother was murdered in the Metro East, Shroba says.
"One retaliation, one murder leads to another," Shroba says.
About half of the Cochran Crips under indictment have been arrested, authorities say. Woods says agents are still serving search warrants and looking for the others. He asked anyone with information about the gang or any other to call any of the agencies or departments involved with Mission SAVE.
We welcome tips and feedback. Email the author at doyle.murphy@riverfronttimes.com or follow on Twitter at @DoyleMurphy.