Photo by Danny Wicentowski
The family of Edward Crawford embraces during a rendition of "My soul has been anchored in the Lord."
The first time Robert Cohen saw Edward "Skeeda" Crawford, it was through the viewfinder of a camera. It was just after midnight on August 13, 2014, four days after the fatal shooting of Michael Brown. Protesters and police had already faced each other several times across picket lines, but this night was something different. To clear the streets, police deployed a barrage of tear gas, and protesters who ran were pursued on residential streets by armored trucks and officers clad in tactical gear.
One of those tear gas canisters landed on Chambers Road. As Cohen focused his camera on the spinning and sparking object, a figure entered the frame. Cohen didn't see the man's American flag t-shirt, or his deadlocks, or the bag of Red Hot Riplets grasped in his hand.
But moments after Cohen snapped the now-iconic image of Edward Crawford throwing the tear gas canister back toward police, the veteran photographer had a gut feeling that he'd captured something special. The photo, celebrated on Twitter and emblazoned on t-shirts, became the most enduring image of the protests, cementing the image of Crawford the protester in the minds of observers across the globe.
Yesterday, more than two years after the photo was taken, hundreds of mourners gathered in a north city church to remember Crawford the man.
On Monday, the pews
inside the
Greater Faith Missionary Baptist Church are packed. The printed program handed to attendees does not include the word "funeral" — rather, this is to be a "celebration of life."
Tragically, Crawford's life ended
May 4
, under circumstances that point toward a possible suicide. According to statements by St. Louis city police, the 27-year-old had been riding in the backseat of a vehicle when he began "expressing he was distraught over personal matters." Two other people in the car heard him rummaging in the backseat, and then a gunshot. (On Friday, a police spokeswoman told
Riverfront Times
that an official cause of death has not yet been determined, pending the results of an autopsy.)
Citing the police report and witness statements, news coverage characterized Crawford as "distraught" and "depressed." But to his family, that doesn't sound like the outgoing man they knew. Family members, including his father, have
challenged
the police report's narrative of suicide, suggesting instead that Crawford's death must have been accidental.
"He was not a depressed person," one of Crawford's uncles notes during a eulogy delivered from a podium behind the rose-wreathed casket. Crawford was a father of five and had a job lined up at a Schnucks warehouse. And while he had ups and downs, "he always bounced back."
"I don't know the story, I don't know what happened, all I know is the result," the uncle adds. "I don't know about what the newspapers write, but I ain't never seen him depressed. I can only say that because I know him."
A different, more disturbing theory has also been floated in the wake of Crawford's death. Even mainstream outlets noted the violent ends that have met a handful other Ferguson protesters, including
Darren Seals, who was found shot to death in a burning car in September
. Some blogs took those links and stitched together a web of conspiracies, theorizing that Ferguson protesters were being targeted for murder. Even some local politicians gave voice to such suspicions, although no one has offered much in the way of evidence.
But if anyone at Crawford's funeral holds similar suspicions, they keep them private. Aside from the uncle's comments, there is no mention of depression, let alone suicide or foul play.
Instead, the focus remains on Crawford the friend, the family member, the father of four. The printed funeral program features school photos of a younger Crawford and pictures of hand-written tributes from his young children.
"Your kids miss you so much," his son Daijen wrote in careful block letters, ending the message with a doodle of a smiley-face with hearts for eyes. Crawford's daughter, who signed her name Toodie, wrote that she didn't understand what had happened to her dad, but she wanted him to know, "You mean the world to me. Love you always and forever."
In their eulogies, Crawford's friends and family remember his humor, inner strength and loyalty. The funeral features no posters or reproductions of the photo that made him famous, but the legacy of that moment is clearly alive in the church.
"I'm at peace today," says one friend during her eulogy. "He will live on in media for ever. He will live on in newspapers forever." Indeed, multiple mourners are wearing the same tank top that Crawford had worn that night on August 13, the one printed with the American flag.
One such mourner was state Representative Bruce Franks (D-St. Louis), the
elected official
and former
Ferguson protester
. Franks was acquainted with Crawford long before joining the protest movement, which altered both their lives.
"He's our Ferguson superhero," Franks says after the service. "He's our symbol of what we needed to do to fight back. To see how he ignited the movement, with one action, before anybody, without thought? I remember seeing the photo, and you knew it was something big."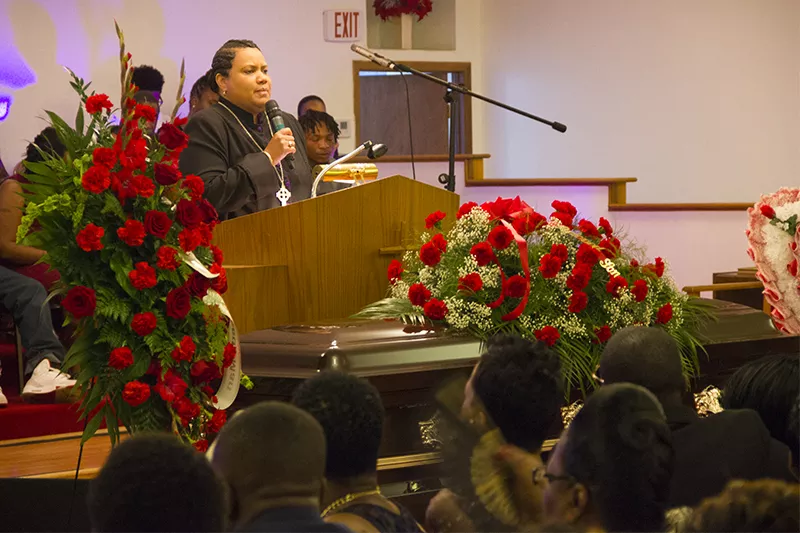 Photo by Danny Wicentowski
"He had a voice to the world," said Pastor Gina Kelly during Crawford's eulogy. "But his voice is still speaking through us."
Indeed, it was.
The photo became the centerpiece of a
Post-Dispatch
's
Pulitzer Prize-winning entry for breaking news photography.
Cohen's photo of Crawford was
praised
by the Poynter Institute's Kenny Irby for its "amazing alignment of action, color, symmetry and symbolism." The image has turned up in murals and even tattoos.
Cohen attended the Monday funeral as a mourner, not a photojournalist on assignment. He says that he kept in touch with Crawford, but they hadn't spoken for several months.
"When I took the photo, I didn't appreciate the resonance this picture would have, and so it took me a couple days to even look for him," Cohen says. With the help of Twitter, finding Crawford
wasn't difficult
. Their first real meeting took place at a restaurant on the Delmar Loop two weeks later,
during an interview
in which Crawford described the chaos of the police response on August 13, saying that he only threw the tear gas canister to clear it away from children in the crowd.
In fact, after taking the photo, Cohen dashed off so quickly that he didn't even know Crawford had been arrested. At the time of his death, Crawford was
still facing charges
for violating county ordinances for interfering with a police officer and assault.
"Normally you see somebody, sometimes it's a fleeting moment, sometimes you spend the day with somebody for a story, but you rarely talk to them again or see them again," Cohen says. Crawford was different.
"He was just a good a guy." he says. "Skeeda always talked with so much life, so much animation. The guy I knew was loving life, and this is just a horrendous way to lose him. I'm happy to have made the photo; I just wish he was still around."

Editor's Note: A previous version of this story misstated the street where Crawford was photographed throwing the tear gas canister. It was Chambers Road, not West Florissant Avenue. We regret the error.

Follow Danny Wicentowski on Twitter at @D_Towski. E-mail the author at Danny.Wicentowski@RiverfrontTimes.com