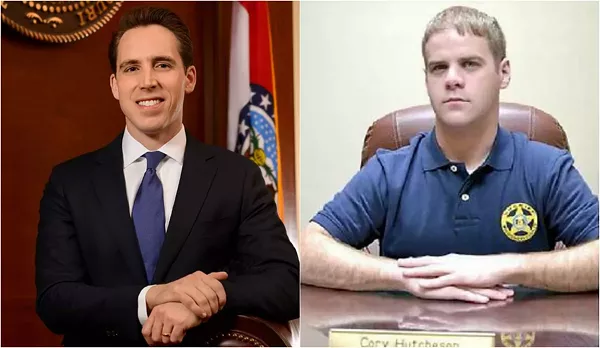 Images via Facebook/Mississippi County
Attorney General Josh Hawley (left) is investigating Mississippi County Sheriff Cory Hutcheson.
A rural Missouri sheriff who had to turn in his gun after an inmate's death is a "danger to the community" and should be in jail, Missouri Attorney Josh Hawley says.
Today, Hawley asked a judge to revoke the $75,000 worth of bonds Hutcheson posted following his April 5 arrest on two unrelated criminal cases.
The attorney general says the newly elected sheriff violated the terms of his bail on May 5 when he allegedly led a team of officers into a Mississippi County Detention Center jail cell to restrain 28-year-old Tory Sanders.
Sanders,
who was reportedly suffering from mental illness and hadn't been charged with a crime
, died shortly after. The attorney general has opened a criminal investigation into his death and Hutcheson's role.
"The court should act now, by revoking his bail, to prevent further tragedy and any interference in our investigation," Hawley says in a statement.
Hutcheson did not respond to a request for comment, but he has previously proclaimed his innocence. His attorney, Scott Rosenblum, says in an email he sees "absolutely no reason" the sheriff's bond should be revoked.
Hutcheson,
who was the subject of a Riverfront Times cover story last month
, is facing multiple accusations, stemming from a wide range of incidents.
In April, Hawley slapped him with eighteen criminal charges in two cases. In one of the cases, he's accused of illegally tracking the cell phones of a judge, five state troopers and the former sheriff in 2014, when Hutcheson was still a deputy.
He also accused of robbing and assaulting an elderly hairdresser in March, acting as a strongman in a squabble between his 23-year-old sister-in-law and the 77-year-old woman. Hutcheson caused the hairdresser to suffer a heart attack, and then asked the county prosecutor to file bogus kidnapping and assault charges against her, authorities say.
He's being sued by the troopers and the hairdresser in a pair of federal civil suits. The family of Somer Nunnally, a young mother who died of a drug overdose in 2015 at the the jail,
has also filed a federal civil suit against Hutcheson
, who was the jail administrator before being elected sheriff in November.
A fourth lawsuit,
filed last year by the ACLU
, accuses Hutcheson of ignoring pregnant inmate Tara Rhodes for five days in December 2014 as she pleaded for medical help. Her baby was stillborn on Christmas Eve, after she was transferred to a state prison, according to the suit.
Hawley referenced the deaths of Sanders, Nunnally and the baby on Monday in announcing his request to have Hutcheson jailed. "Three people have died on his watch."
The attorney general had previously succeeded in persuading a judge to take the rare step of barring the 33-year-old from even entering the sheriff's office after Sanders' death.
Sanders reportedly approached police for help after running out of gas and was taken to the jail to check a warrant. Hawley says officers
shocked Sanders with a taser at least three times
during the day. They also called in Charleston police to pepper spray him before Hutcheson, whose police officer's license was suspended, organized officers to extract him from the cell.
We welcome tips and feedback. Email the author at doyle.murphy@riverfronttimes.com or follow on Twitter at @DoyleMurphy.