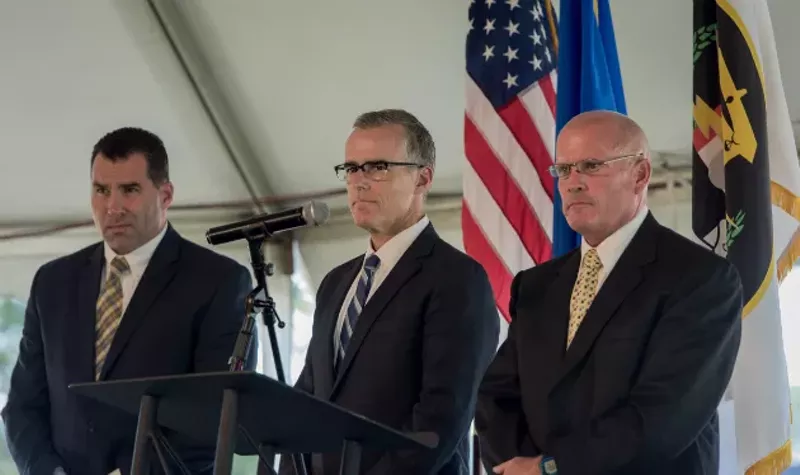 Image via FBI
Acting FBI Director Andrew McCabe (center) was once a law student at Washington University.
Long before he was slicing through White House spin on an investigation into Russian interference, acting FBI Director Andrew McCabe was a law student in St. Louis at Washington University.
McCabe, who stepped in after President Trump fired FBI Director James Comey this week, graduated from the school of law in 1993.
Law school Dean Nancy Staudt says McCabe "was an energetic and talented student" during his time in St. Louis. He has credited his law school experience, particularly moot court prosecutions and an internship with the Justice Department, for steering him toward the FBI.
In an interview with a university magazine last month, McCabe said he became interested in the bureau while reviewing agents' internal reports as part of his summer DOJ internship.
"I read a ton of them and became hooked on the idea of becoming an FBI agent,"
McCabe told the Source
.
He joined the FBI in 1996, three years after graduating Wash U, and made an early impression busting up a Russian organized crime syndicate in New York City.
McCabe was still relatively unknown until this week when he landed in the midst of one of the hottest controversies in nation. Trump abruptly canned Comey on Tuesday, a move the president and his surrogates have struggled to explain with any kind of consistency.
In one of many versions of the reason for the firing, Trump told reporters Comey "wasn't doing a good job." Deputy Press Secretary Sarah Huckabee Sanders made the dubious claim she had spoken to "countless" FBI agents who were sick of the director.
McCabe clearly and directly shot down those claims on Thursday while testifying in front of the Senate Intelligence Committee.
"That is not accurate," he told senators. "I can tell you also that Director Comey enjoyed broad support within the FBI and still does to this day."
He also contradicted White House characterization of the Russia investigation as supposedly being a tiny sideline of the FBI's current work, telling the committee the investigation was "highly significant."
One of McCabe's former bosses in the FBI says McCabe has handled an intensely difficult situation like a pro.
"His words were so measured and circumspect in a way that a person in power should be," says retired FBI supervisor James Gagliano, who was the team leader of the bureau's New York SWAT team in the late 1990s when McCabe was a member. "You contrast that with the president, who is far more reckless with his actions and his words. I think Andy understands how careful he should be."
McCabe does have some detractors in bureau, who think his resume leans a little too heavily toward Washington, D.C., administrator jobs, Gagliano tells the
Riverfront Times
, but top positions always come with criticism.
"I would describe him as a quiet professional," Gagliano says.
McCabe is the second Washington University grad to run the FBI. William Webster, who graduated in 1949, was the director from 1978 until 1987 and later led the CIA.
Given McCabe's willingness to take on the White House directly, he could be in for a shorter run atop the bureau, but those at his alma mater say he's up to the job for as long as it's his.
Staudt, the law school dean, says, "Mr. McCabe will be excellent in his new role."
We welcome tips and feedback. Email the author at [email protected] or follow on Twitter at @DoyleMurphy.