Images via Facebook/Mississippi County
Attorney General Josh Hawley (left) is investigating Mississippi County Sheriff Cory Hutcheson.
A mentally ill man who died
after a clash with staff at a Missouri jail
had been shocked with a Taser at least three times and pepper sprayed when he refused to leave his cell, state Attorney General Josh Hawley says.
Tory Sanders, 28, of Nashville collapsed on Friday evening in the Mississippi County Detention Center and was pronounced dead less than an hour later at a nearby hospital, authorities say.
Hawley revealed new details in the case on Thursday after visiting the jail and speaking with investigators from the Missouri State Highway Patrol.
"We will conduct a full and vigorous investigation," the attorney general promised during a news conference.
Hawley had previously charged the man responsible for the jail, Mississippi County Sheriff Cory Hutcheson, with eighteen criminal counts in two unrelated cases. The sheriff is also a defendant in four federal civil lawsuits, including one that involves the 2015 death of an inmate and another in which he is accused of letting a pregnant inmate languish for so long without access to medical care that her baby was stillborn in 2014.
Hawley successfully petitioned a judge
to strip Hutcheson of his duties as the state investigates Sanders' death.
Hutcheson,
who was the subject of an RFT cover story last month
, was already limited in what he was legally allowed to do when Sanders entered his jail on Friday. His law enforcement license as suspended following his arrest in early April, and he was supposed to be acting only as an administrator of the department.
But Hawley says that Hutcheson gathered jail personnel and Charleston cops on Friday night and led them into the Sanders' cell when the Tennessee man refused to move to another cell. Sanders collapsed during the ensuing struggle and was taken to a nearby hospital, where the county coroner confirmed his death shortly after 8 p.m.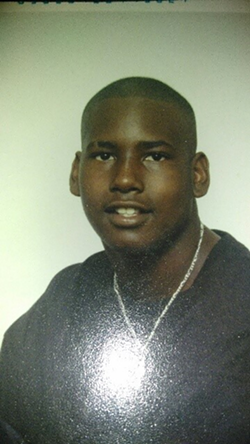 Image via WFVF-TV/Sanders Family
Tory Sanders, 28, was tased and pepper sprayed before his death, authorities say.
Both Hawley and Sanders' family say the young man was simply looking for help when he contacted Charleston police earlier on Friday.
He had left Tennessee on Thursday and apparently got turned around on his way to Memphis. He ran out of gas in the Bootheel region of Missouri and, Hawley says, hitched a ride to a Walmart in Sikeston before making his way to Charleston by nightfall.
His family says he was suffering from depression and did not know how to get back home.
His aunt, Natasha Nance, told the
Riverfront Times
that Sanders had been calling his mom throughout the night, trying to figure out what to do.
"If I got to police, will they help me?" Sanders asked his mother, according to Nance.
That matches up with Hawley's account of the events. He says Sanders talked to Charleston officers on Thursday night, and then again at 11 a.m. on Friday at a Casey's General Store.
"He signaled to officers he was in distress of some sort, and he asked to see a counselor," Hawley says.
Sanders claimed there was a warrant for his arrest in Nashville, stemming from an altercation he'd had with the mother of his children before he left town, Hawley says. So the officers took him over to the jail to check it out. They also called a mental health professional, who examined him and said he could be released. The officers learned there was a warrant, but not one that would let them extradite Sanders, so jail staff planned to send him on his way.
But Sanders apparently did not want to go.
"Early indications are that he became increasingly agitated for reasons at this point that are also still unclear at this juncture," Hawley says.
In the hours that followed, he hung out in a holding cell, occasionally borrowing a cell phone from the sheriff's chief deputy to call his mom back in Tennessee. At 4 p.m., jail staff called the mental health professional for another evaluation, and this time Sanders was recommended for a 96-hour mental health hold.
Hawley says the situation escalated at about 6 p.m., when jail staff wanted Sanders to move to another cell. This touched off a series "exchanges and altercations," the attorney general says.
Throughout the evening, Sanders was getting more worried. His aunt says sheriff's staff told the family they were trying to help Sanders and were making arrangements to take him to a hospital in Poplar Bluff. But Sanders was convinced they were out to get him. He told his mother that jailers were "electrocuting" him, possibly a reference to the Taser shocks that jail personnel administered, in Hawley's words, "over the course of the day."
About 6:45 p.m., jail personnel had apparently had enough. They called Charleson police to come hit Sanders with pepper spray, Hawley says. The police obliged.
At 7:15 p.m., Hutcheson rallied the troops and led them into the cell, according to the attorney general. They called for medical help ten minutes later, and Sanders was transported to the Missouri Delta Medical Center in Sikeston, where he was quickly pronounced dead.
Hutcheson previously claimed to the
RFT
that Sanders was combative, putting six officers in the hospital.
County Coroner Terry Parker told the
RFT
on Monday the preliminary results of an autopsy were inconclusive as to cause of death. He is awaiting a toxicology report while reviewing Sanders' medical history.
Hawley says after Sanders' death he took the "extraordinary" and "very rarely used" step of seeking to bar Hutcheson from ever working in law enforcement again.
He says attorneys in his office had previously asked a judge to prevent Hutcheson from bonding out of jail or at least performing any duties of the sheriff following his arrest in early April, but those requests were denied. After Sanders' death, he petitioned the court for what is known as a writ of Quo Warranto.
The judge granted the request on Tuesday night, and Hutcheson has surrendered his badge and gun. The order bans him from entering the sheriff's office or working with it in any way.
Hawley says the highway patrol is still gathering evidence, including jail surveillance tapes, and has not ruled out filing charges against those involved. He says they're also reviewing past incidents at the jail and cases involving Hutcheson.
The attorney general declined name any specific incidents, but the review would probably include the death of Somer Nunnally, who died of an overdose after a DUI arrest in 2015, and the case of
Tara Rhodes, who is suing Hutcheson with the help of the ACLU
after her baby was stillborn in 2014.
In a statement on Thursday, the ACLU says the latest allegations against the sheriff "show a pattern of cruelty, depravity and the innocent deaths of those he is supposed to protect."
Hawley says he has reached out to Sanders family and will follow the case wherever it leads.
"Our investigation is ongoing," Hawley says. "I say again to the family of Mr. Sanders that I am deeply, deeply sorry for their loss, and I say to them and to the people of Missouri that this office will conduct a full and vigorous investigation until we know what happened, and we'll take all all appropriate steps thereafter to see that justice is done."
We welcome tips and feedback. Email the author at doyle.murphy@riverfronttimes.com or follow on Twitter at @DoyleMurphy.