Photo by Danny Wicentowski
The south end of the Kingshighway bridge, circa Wednesday.
After nearly two years of closure, the Kingshighway bridge is set to partially reopen this Saturday morning, with a ribbon-cutting gala featuring St. Louis Mayor Lyda Krewson and two city aldermen. It'll probably be a beautiful ceremony but
holy frickin' Imo's, you guys,
can't we just please open this bridge already?
Basically, now that the end is in sight, I'm going crazy over here.
The first few months weren't so bad. Follow the traffic cones, make a left turn onto Shaw Boulevard, a right onto Vandeventer Avenue, and then a wide left turn that brings you back onto Kingshighway.
But 675 days later, that left turn onto Shaw has become a petty affront that crushes my tolerance to dust on a daily basis. Shaw is too cramped for two lanes of cars trying to make the same left turn. Vandeventer is a backed-up monstrosity. Sartre might have claimed that hell is other people, but the worst part of hell is definitely other people driving on Vandeventer.
While commuting home to south city yesterday, I almost shed tears at the sight of the bridge's untrammeled pavement sloping into the horizon. Then a thought crossed my mind: This bridge — which Google Maps insists is pronounced "King Shy-Way" — looks ready for traffic, like, right the heck now.
The temptation was great.
Don't turn left. Drive straight on through. Do it.


From temptation, my thoughts turned to paranoia: Could our fine new mayor be purposefully delaying the opening of a perfectly functional bridge for her own gratification? Was St. Louis to suffer two additional bridge-less days for the sake of a bullshit ribbon-cutting ceremony?
And so I turned left onto Shaw — but instead of continuing to Vandeventer, I pulled into the parking lot O'Connell's Pub,
one of the long-suffering businesses
affected by the bridge's closure. Upon exiting my vehicle, I conducted a spot-check on the condition of the bridge repairs, deploying the rigorous engineering research skills you'd expect from someone who once passed Calculus with a flying C-.
I mean, just look at that beauty.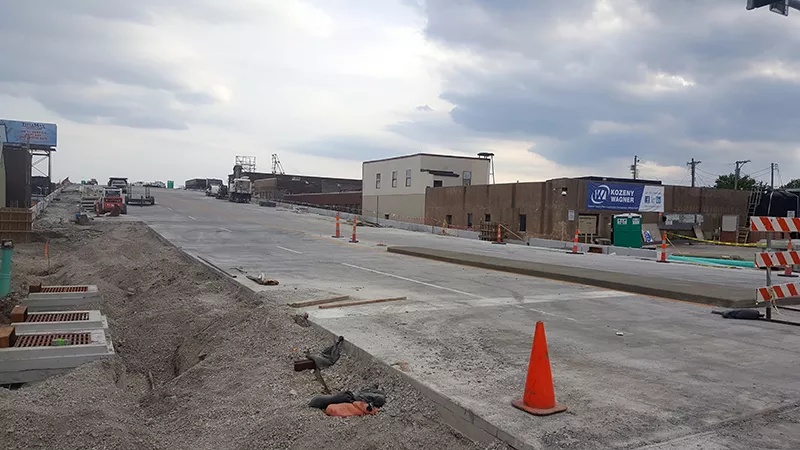 Photo by Danny Wicentowski
The view Wednesday from the north side of Kingshighway.
Sure, it's a little rough on the edges, but a fence would do the trick, right? It looks drivable!
And in light of that, why wait two more days? Haven't we suffered long enough?
Alas, it turns out that there's a pretty reasonable explanation for this final, unbearable delay: Asphalt.
"The city is still milling out asphalt at Shaw and Kingshighway," explains city spokesman Koran Addo in an email Wednesday evening.
And there's another complication beyond that. Essentially, rain is bad for asphalt work.
Explains Addo, "The city also has more asphalt that needs to be poured on the bridge, but several hours of dry weather is needed to do that. The asphalt was supposed to be poured tonight, but was canceled because of the forecast for rain. Tomorrow's forecast also calls for rain during the day, so the city's hope is that the asphalt can be poured tomorrow evening."
Fine.
That's a fair reason to keep the bridge closed to traffic. But what happens if it just keeps raining all the way up through Saturday morning? At that point, can we all just agree we're coming on through? Anyway, what does asphalt even do?
Please, St. Louis. Free me from the bondage of the left turn. Give me freedom. Give me my bridge.

Follow Danny Wicentowski on Twitter at @D_Towski. E-mail the author at Danny.Wicentowski@RiverfrontTimes.com