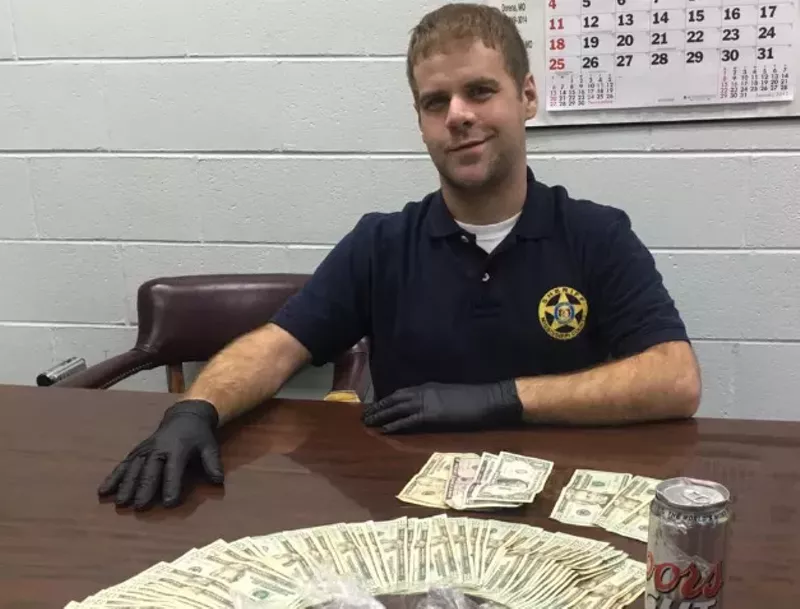 Image via Mississippi County Sheriff Facebook page
Mississippi County Sheriff Cory Hutcheson is facing robbery, assault and fraud charges.
Update at 12:25 p.m. Wednesday
A judge has suspended Mississippi County Sheriff Cory Hutcheson at the request of Missouri Attorney General Josh Hawley. Hutcheson's law enforcement license was already suspended following
his arrest on robbery, assault and forgery charges last month
, but he was still overseeing the sheriff's office as an administrator. He will now have to step down from that role as well.
Judge William Syler granted the attorney general's request last night, Hawley announced today.
"The judge's order last night will prevent Cory Hutcheson from interfering in our investigation into Friday's events and death at the Mississippi County jail," Hawley says in a statement. "And it will prevent him from any further abuse of his office. We have launched a full investigation that is ongoing."
Original story continues below. Please also see our story about Tory Sanders' death, including details from his family about how he landed in the jail for his fatal confrontation with officers.
State Attorney General Josh Hawley wants a controversial sheriff removed from office following the
death of a mentally ill inmate
— the latest in a string of troubling incidents.
Mississippi County Sheriff Cory Hutcheson took part in a violent confrontation with 28-year-old Tory Sanders on Friday evening, according to Hawley. Sanders collapsed during the episode and was later pronounced dead at a nearby hospital, according to the county coroner.
"As soon as I learned of this death, I directed my office to open a full investigation, which is now underway," Hawley says in a statement. "In the meantime, we are asking the court to strip Hutcheson of his office of sheriff and prevent him from interfering in any way with our investigation and other law enforcement efforts."
The sheriff,
who was the subject of a Riverfront Times cover story last month
, has been working with a suspended license since early April, when Hawley hit him with eighteen criminal charges tied to two separate cases. Hutcheson is accused of assaulting and robbing a 77-year-old hairdresser in March and forging documents in 2014 while he was still a deputy so he could illegally track the cell phones of a judge, five state troopers and the county's former sheriff.
He was arrested on those charges on April 5 but quickly returned to work after posting bond. The state Department of Public Safety suspended his license almost immediately, but that still allowed him to run the sheriff's office as an administrator.
Hawley now says even that is too much power.
"My office has already charged Hutcheson with robbery, assault and illegal surveillance," Hawley says. "And on Friday, an inmate at the Mississippi County jail died following an altercation in which Hutcheson participated —despite the fact Hutcheson's license as sheriff has been suspended."
Hutcheson didn't immediately respond to a request for comment on Tuesday. He had previously told the
Riverfront Times
that Sanders became "combative" and "seriously injured six officers," who were then hospitalized. He did not address whether he personally took part in the supposed melee, as Hawley has charged.
The request from the state attorney general comes on the same day that a Cape Girardeau law firm representing the hairdresser, her sister and five state troopers filed two civil lawsuits against him in federal court.
The allegations in the two cases filed by attorneys Curtis Poore and John Steffens of the Limbaugh Firm echo many of those from the criminal charges Hutcheson is facing in state court. In both suits, he is accused of abusing his power and violating their constitutional rights. The troopers argue he illegally invaded their privacy and violated a federal communications act, filing false documents to "ping" their cell phones — a technique that typically requires a warrant and uses a phone's GPS to reveal its location.
In the hairdressers' case, Hutcheson is accused of acting as the strongman to settle a dispute between his young sister-in-law and the elderly stylists over her final paycheck. The septuagenarians had withheld the check after accusing the 23-year-old woman of stealing pages from an appointment book before she quit, the suit says.
Photo by Doyle Murphy
Sheriff Cory Hutcheson is accused of assaulting a 77-year-old hairdresser at Joyce's Beauty Shop.
They claim the sheriff came to collect the money and violently handcuffed the 77-year-old, wrenching her wrist so hard that she bled before snatching the check from her hand, according to the suit. She suffered a heart attack as a result of the altercation, authorities say. To cover his tracks, Hutcheson is accused of trying to get the county prosecutor to file bogus kidnapping and assault charges against the older women.
As we previously reported
, Hutcheson is also facing two other lawsuits from his time as jail administrator. The ACLU in Missouri has accused him of ignoring a pregnant inmate's pleas for medical help for five days in 2014 — a hard-hearted callousness that led to the child being stillborn a day after the woman was transferred to a state prison.
The family of another inmate who died in 2015 also alleges jailers under Hutcheson's command let her die of a drug overdose while they laughed at her.
Editor's note: This story was updated after publication to include the latest information on Hawley's status. Also see the latest on Tory Sanders' death in our May 10 report.

We welcome tips and feedback. Email the author at [email protected] or follow on Twitter at @DoyleMurphy.