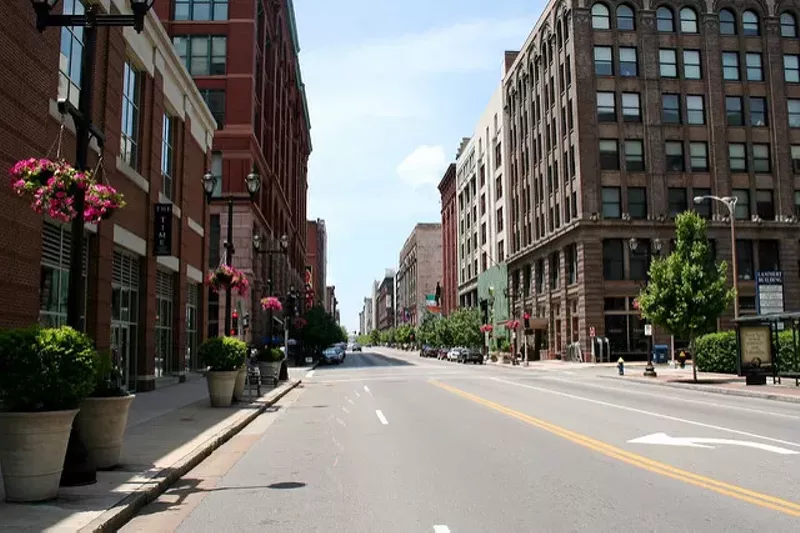 PHOTO COURTESY OF FLICKR/DUSTINPHILLIPS
Cameras downtown, including some on Washington Avenue, scan for stolen vehicle plates.
Twenty-year-old Travis Robinson was sleeping in the back of a car driven by a friend in July 2015 when a
"license recognition" camera
in downtown St. Louis took notice of their vehicle. The car, it turns out, had been stolen.
St. Louis city cops gave chase, eventually deploying spike strips to stop the vehicle and arresting all three of its occupants. But it's what happened to Robinson that led to a federal lawsuit being filed against the St. Louis Metropolitan Police Department yesterday: He suffered a post-traumatic skull fracture.
Robinson's lawyer, Talmage Newton IV, alleges in the suit that officers dragged the young black man out of the car, kicked him in the abdomen, beat him, kicked him in the head and struck the top of his head with an object, fracturing his skull.
And then they lied about it, the suit alleges.
After the scuffle (in addition to Robinson's injuries, another young man was tased and the third slammed into a fence, Newton says), the men were taken to the Justice Center to be booked on criminal charges. Those charges included felony fleeing (against the driver), resisting arrest and tampering with a motor vehicle, according to the police department.
But officials at the Justice Center noticed Robinson's injuries and refused to take him into hospital. Instead, officers drove him to the hospital.
Police informed hospital staffers that Robinson had been "tackled" and hit his head on a curb, Newton says. But in the police report they would later file over the incident, they allege he struck his head while in the vehicle.
Newton says he believes police were angry that the driver didn't stop — and that they took out their anger on the car's occupants. "It's the 'running tax,'" he says. "You run, you pay for it."
Ultimately, the charge of resisting arrest was dropped after Robinson pleaded guilty to tampering with a motor vehicle — a charge that amounts to saying he should have known the car he was riding in had been stolen. Now his lawsuit, filed against officers Ronald E. Vaughn, Mark McMurry, Gregory Klipsch and Kyle Chandler in U.S. District Court, alleges the use of excessive force, conspiracy to deprive him of his civil rights, assault and battery and malicious false prosecution.
The city counselor referred our request for comment this morning to the mayor's office. We'll update this post if we hear back from them.
Says Newton, "This type of policing creates enormous distrust in the community, and perpetuates violence and a terrible cycle. If you can't trust the police, then you run from the police. ... This is just the beginning of a much bigger problem."
Newton says his client did not have a felony record prior to the July 2015 incident, although court records show he was later charged with stealing a motor vehicle, in 2016. (He was sentenced to five years' probation in that case, according to court records.)
"He's a young man who's clearly made some bad decisions with his associations," Newton says. "But now he's working on getting his GED. He is not a criminal. And even if he were, he didn't deserve what happened to him."
We welcome tips and feedback. Email the author at sarah.fenske@riverfronttimes.com