COURTESY OF FLICKR/TIM LENZ
A Ferris wheel in Sandusky, Ohio.
A new business is being pitched for the Delmar Loop — but it's not
a giant craft beer-themed chain restaurant
or even
a sports bar where the waitresses wear pasties and body paint
.
It's a Ferris wheel.
Yes, a Ferris wheel.
Nextstl.com reports
that a trio of men with real estate backgrounds pitched the idea of erecting the wheel on the southeast corner of the intersection of Skinker and Delmar to the Delmar Commercial Committee last night. "Tony Sansone, Jr. and his son Michael Sansone of Sangita Capital Partners, and Todd Schneider of Pacific Development LLC ... hope to add a family-friendly attraction to the walkable entertainment district," the website reports.
And yes, that plan does involve erecting an edifice that's between eight and fourteen stories high on
a relatively small lot that was previously home to a Church's Chicken
.
And yes, that intersection is already remarkably clogged, with pedestrians, cars,
a huge new apartment complex
under construction,
an office and retail complex being planned
, and a new trolley track about to go online (but hey, maybe they can fix everything by
banning bicycles
, so, no troubles here!).
The partners shared plans that show fifteen on-site parking spots along the alley,
Nextstl.com reports
. They say the Ferris wheel would feature twenty enclosed gondolas; riders would get four trips around, and a beer garden below would tempt people to stay longer.
Because there's a three-story height limit on the property, it would need a variance from the city. However, the developers said they are not seeking tax abatement.
The spokesman for Mayor Lyda Krewson, Koran Addo, tells us, "The city is aware of this plan but we have not received an application."
So yeah. Someone wants to put a Ferris wheel on the Loop.
We'll just leave things at that.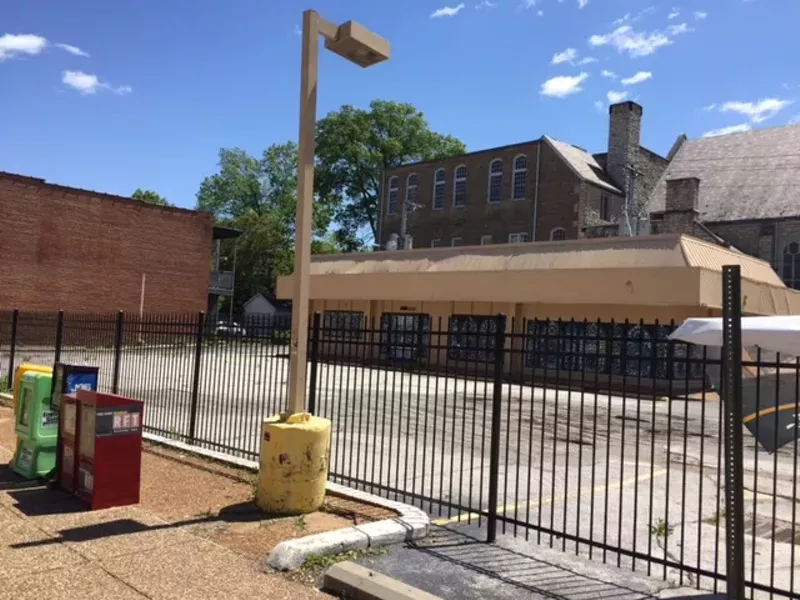 PHOTO BY SARAH FENSKE
This former Church's Chicken could become an entertainment mecca.
We welcome tips and feedback. Email the author at sarah.fenske@riverfronttimes.com