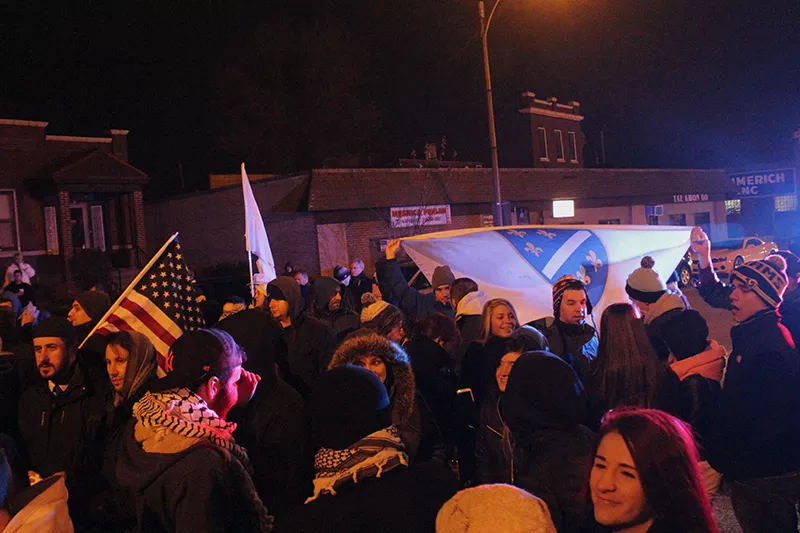 PHOTO BY DANNY WICENTOWSKI
St. Louis' Bosnian community staged a solidarity march after the 2014 murder of Zemir Begic.
Last week,
St. Louis Post-Dispatch
editorial page director Tod Robberson affixed his byline to a remarkably bad column — deploying a columnist's bag of tricks to argue that protesters are hypocritical law-breakers and that acts of civil disobedience enable violence.
The twisting logic and selective memory involved in Robberson's April 26 op-ed,
"There's no constitutional right to commit mayhem,"
quickly drew pushback from state Representative Bruce Franks (D-St. Louis),
whose rebuttal
was published by the
St. Louis American
on Friday.
But while Franks took on some big fallacies in Robberson's argument, he didn't mention one of Robberson's grossest errors: Namely, the way Robberson tries to use the unrelated death of a Bosnian immigrant to bolster his case. In doing so, the editorial page director doesn't just accuse black teens of committing a murder that was actually done by a group that included other races. He also wrongly ties an act that had nothing to do with protests to protesters.
Robberson's column took its jumping-off point a quote from Franks, who last month criticized
a bill seeking to levy felony charges on protesters who block highways.
Franks objected to the way the proposal was clearly designed to deter citizens' rights to free speech and protest, noting, "As long as it's not making everybody else uncomfortable, it's OK to protest. But the moment when you're making everybody uncomfortable, or you don't necessarily see the measurable outcome of said protest, then it's unlawful or it's against what's right."
Robberson writes, "[Franks] and other protesters seem to want it both ways, they want to advance their cause with showy acts of defiance yet react with outrage at the police response when their civil disobedience turns into outright criminality."
If Franks and other protesters are willing to defend "showy" protests that disrupt highways, worries Robberson, where do they draw the line?
"Because," Robberson warns, "once you rationalize violating the law in the name of your cause, the sky's the limit."
Robberson justifies his logic with specific examples, starting with the burning of the QuikTrip after the death of Michael Brown. He cites five separate incidents, attempting to link civil disobedience and wanton violence.
But his argument doesn't fail only because it ignores the fact that peaceful protests were a near-daily occurrence in the months after Brown's death. Robberson goes even further — including the horrific murder of 32-year-old Zemir Begic in December 2014.
As Robberson writes, "Amid still-simmering racial tensions in December 2014, a 32-year-old Bosnian man was beaten to death with a hammer in St. Louis. Four black teenagers were arrested."
The errors are manifold. For one thing, the teens weren't even all black —
one was identified by police as white; another was Hispanic
. Just as importantly, Begic's murder had nothing to do with the Ferguson protests. Despite public outcry at the time —
the Bosnian community staged a march and vigil
in response to Begic's death — investigators ultimately determined that the horrific murder
did not constitute a hate crime
.
"There is no evidence that this was a crime occasioned by the race or ethnicity of the victim," Mayor Francis Slay said in a formal statement in early December, adding, "Speculation that this attack had anything to do with the Ferguson protests is absolutely unfounded." Robberson's own paper published the statement, as well as a piece reporting on the
racial makeup of the teens who were arrested
. Somehow, the editorial page director missed both stories.
In Robberson's column, the assortment of handpicked cases, plus Begic's murder, suggests a pattern: "[O]nce a few individuals decide to escalate protest from the realm of civil disobedience to something more impactful, chaos and tragedy can quickly ensue. People take their cues from each other. Once an atmosphere of disorder prevails, the law becomes meaningless. Innocent shop owners absorb the financial brunt of vandalism. People get killed."
To be fair, there are informed arguments to be made about group dynamics and how chaos can spread at the edges of otherwise peaceful protests. But you can't argue that protest-linked "atmosphere of disorder" killed Zemir Begic in light of what police and public officials have revealed about the case.
Reached by email Friday, Robberson declined to explain his choice to include Begic's death in the highlight reel of destruction allegedly wrought by protests.
However, Robberson did respond to Franks' April 28 rebuttal. In his email to
RFT
, Robberson said that he and Franks "agree on a lot on a lot of things" and that he admires Franks' straightforward approach.
But rather than reflect on the nuance presented in Franks' open letter, Robberson reached back to the complaint he make at the end the April 26 column, about "the radical left's definition of free speech."
Speaking about Franks, Robberson's email concluded, "I only wish others were as welcoming as he is to those who hold diametrically opposing views. I hope Rep. Franks continues to use his leadership position to guide others who would shout down or seek to intimidate speakers representing the other side of the debate."
If only Robberson could take his own advice. He could use his leadership as a columnist to guide others. Instead, he's only succeeded in adding familiar noise — and a few pretty big errors — to the echo chamber.

Follow Danny Wicentowski on Twitter at @D_Towski. E-mail the author at [email protected]