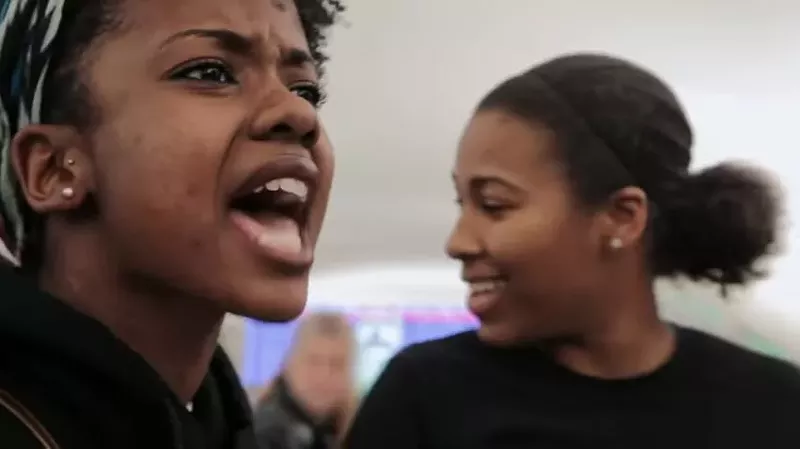 via YouTube/Show Me Democracy
Protesters Brittany Ferrell (left) and Alexis Templeton appear in a new documentary airing this weekend.
The latest documentary to trace the arc of the Ferguson protest movement will make its cable TV debut this weekend, and although the events of August 2014 have already been chronicled in numerous ways,
Show Me Democracy
avoids the lurid cable news coverage and granular details of Michael Brown's death. The result is a remarkably balanced story of young St. Louisans coming to grips with the challenges surrounding street protests and political activism.
Directed by local filmmaker Dan Parris,
Show Me Democracy
focuses on the lives of seven college students interning with the Scholarship Foundation of St. Louis, among them
notable Ferguson protester Brittany Ferrell
.
Through Ferrell's eyes, viewers are given a taste of the stakes and serious intentions behind the protests that carried into 2015. However, the documentary also doesn't shy away from the uncomfortable tensions that arise from protests designed to create "disruption," such as demonstrating inside restaurants or businesses. For activists like Ferrell, the shock-value of disruptive protests —
even blocking highways
— is justified because it forces onlookers to examine their own roles in historically racist systems that contribute to the disproportionate levels of poverty, crime and over-policing in black communities.
But "disruption" is hardly comfortable. One segment shows Ferrell leading protesters into a restaurant to disrupt a brunch; inside, they chant and and reenact a scene (complete with costumes) of a police officer beating a black man. Some onlookers are clearly put-off the by intrusion into their brunch, and the film commendably makes room to include their first-hand impressions. The additional interviews lends the segment a sense of perspective that could have easily been lost in a more heavy-handed narrative.
To be sure, protests are often complicated and uncomfortable, but so is political activism. The second main thrust of the documentary focuses on the Scholarship Foundation interns' on-the-ground training in lawmaking and lobbying. Through the lens of the interns' personal experiences with school funding policy, the documentary presents a dim view of the Missouri legislature's willingness to fully fund the state's
chronically under-resourced need-based scholarships.
In a press release, Parris said that the story of
Show Me Democracy "
is more than Ferguson as an event or a place or a movement."


"
My hope," wrote Parris, "is that the film challenges audiences to consider the way they view the Ferguson Movement and the underlying issues of race, poverty, undocumented students."
Show Me Democracy
airs this Saturday at 8 p.m. on Fuse.


Follow Danny Wicentowski on Twitter at @D_Towski. E-mail the author at Danny.Wicentowski@RiverfrontTimes.com