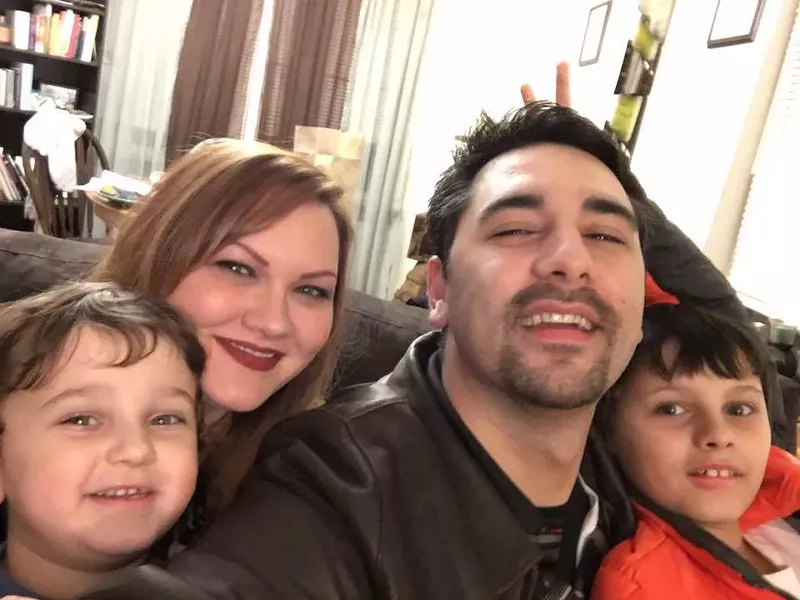 via GoFundMe
The Lee family, including two young boys, aged 5 and 9, were badly injured in freak car crash Tuesday.
A high-speed police pursuit of a carjacked SUV came to a catastrophic end Tuesday morning at Lambert airport, with the suspects smashing their vehicle into the Lee family, which had just returned from Disney World.
"It's really wrong that there was a police chase at the airport in the first place," said Brittany Lee in an interview with
KMOV (Channel 4)
. She had been sitting in the front passenger seat of the family's car, and was able to glimpse the speeding SUV approach at "80 to 90 miles per hour" before the collision. She was lucky to suffer just cuts and scrapes.
But the driver, Brittany's sister-in-law, Caitlin Lee, 30, and nephews Caleb 9, and his brother Evan, 5, were badly injured. Evan sustained a broken arm, while Caleb remains in critical and unstable condition; he's currently being treated in pediatric intensive care with swelling on his brain, reports
the St. Louis-Post Dispatch.
In an interview with the newspaper today, Caleb's father said, "We are holding on to every hope."
The boys' mother remains hospitalized with injuries that include a broken pelvis.
A GoFundMe campaign
launched Tuesday to raise funds for the family's medical expenses has already surpassed its $10,000 goal.
According to a statement by St. Louis County police spokesman Shawn McGuire, the car chase began at 9:46 Tuesday morning after a Normandy officer attempted to pull over the SUV for a moving violation on westbound Interstate 70 near St. Louis Lambert International Airport. Instead, the SUV sped off toward the airport.
The statement continues: "The suspect vehicle failed to yield and exited 70 westbound on to Lambert International Blvd. when the suspect vehicle struck an uninvolved passenger vehicle at an intersection near the Southwest Terminal."
Three juveniles were taken into custody after the Tuesday crash: a 15-year-old male driver and two passengers, a 16-year-old male and a 16-year-old female who was sitting in the backseat. All three were transported to a local hospital to treat abrasions and lacerations, though they are listed in stable condition. Police also recovered a "replica" handgun.
When the officers ran a computer check on the vehicle, it came up as stolen and linked to an armed robbery in the Central West End earlier that morning. However, it's not clear if the three teenagers in the speeding SUV were also responsible for the initial carjacking, as the suspects in that incident were described as two males between 20 and 25 years old.

Follow Danny Wicentowski on Twitter at @D_Towski. E-mail the author at Danny.Wicentowski@RiverfrontTimes.com