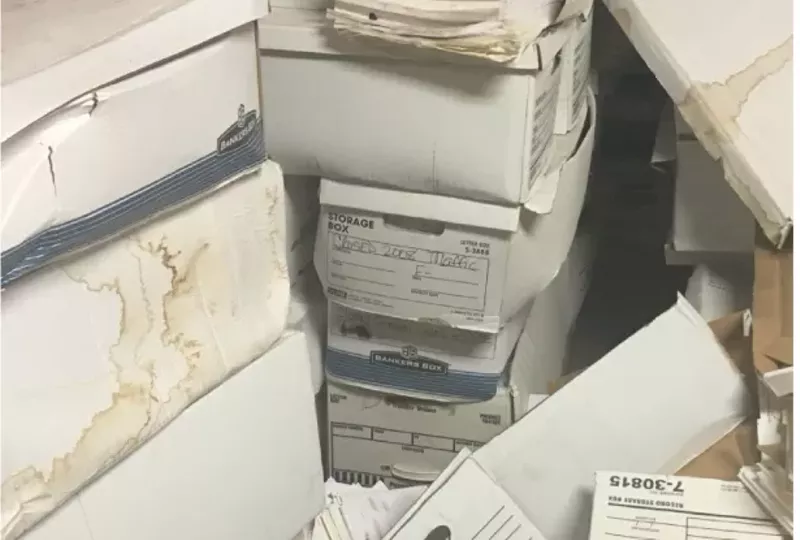 Image via Missouri State Auditor
Court files stored in Ferguson city garage were water damaged and moldy, state auditors found.
The Ferguson city court charged people $26,000 in illegal fees and is missing nearly $1,500 in cash, but it's nearly impossible to figure out everything that's gone wrong, because officials there do such a terrible job keeping records, a state audit released this morning reveals.
In fact, state investigators had to hire a mold remediation service to help clean piles of deteriorating documents.
State Auditor Nicole Galloway revealed the disturbing results of the long-awaited review into the Ferguson Municipal Court on Wednesday. Not only were the records a mess, she says, but court and city workers were "combative" with state investigators during the probe.
"Considering the lack of cooperation my staff experienced in their official roles as representatives of my office, I can only imagine how average citizens are treated when they are trying to get information about their cases or resolution on serious issues," Galloway says.
Photo by Doyle Murphy
Missouri State Auditor Nicole Galloway, photographed at a previous press conference, says Ferguson court officials charged illegal fees.
The court seemed to have no system for filing or safeguarding sensitive documents, auditors found. Records were scattered between locations in the city, including a storage garage, a municipal building that houses the court and police station and city hall. There was no way to track their location, making it nearly impossible to look up specific cases.
Often the records included sensitive information, including social security numbers, with no mechanism in place to protect them. City workers told auditors that some documents were too moldy or water-damaged to read — not that court officials did anything to improve the situation, Galloway says. They resisted remediation, and ultimately concluded it simply wasn't their responsibility. It fell to the state to hire a remediation service.
And even after the mold remediation team worked on the stacks of paper, auditors still could not find all the records they needed.
"My forensic audit team was able to piece together partial records and receipts to indicate that at least $1,400 in cash was missing, but the careless way these records were kept may prevent us from ever knowing the total amount," Galloway says.
One of the more disturbing parts of the audit report was the revelation that the court was hitting people with illegal fees, including a $15 letter fee and a $50 charge for a warrant recall. Court officials even charged a $75 fee to crime victims who filed reports but chose not to pursue charges, auditors found.
Ferguson has now stopped charging those fees, according to the report.
In their response, city officials called a number of Galloway's claims "inflammatory," saying the alleged missing money was possibly just an accounting error on a small number of cases.
They also blamed a former employee for a number of missing receipts highlighted in the audit. The employee was investigated and terminated before the audit, city officials say.
As for the moldy and badly organized records, city officials say the records are organized and they have begun storing them in plastic bins to prevent water damage.
The audit examined twelve months of records, ending on June 30, 2015. Galloway gave Ferguson a rating of "poor," her office's lowest rating. She says auditors will return to Ferguson to conduct a follow-up.
Editor's note: We updated this story shortly after publication to include new details about the missing money. Galloway says it's nearly $1,500, not $1,400.
We welcome tips and feedback. Email the author at doyle.murphy@riverfronttimes.com or follow on Twitter at @DoyleMurphy.