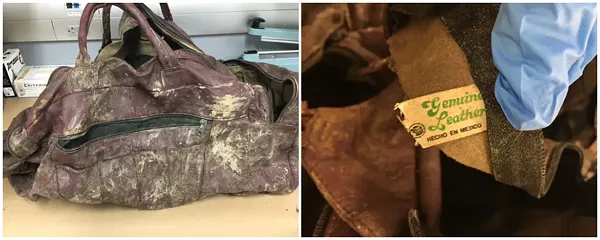 Image via St. Louis County Police
Investigators hope the public can help identify this bag, which held the remains of a baby.
The dirt-covered duffel bag that held a baby's skeleton could help St. Louis County police solve a mystery.
Fishermen in a high-end subdivision in far north St. Louis County found the bag and its grisly contents on April 15. Ever since, police have been trying to figure out the identity of the child.
Police released photos of the bag today. They're looking for any information they can find about it — brand, shop that sold it and possible owner.
The leather bag was discovered behind Belhmann Lake Court, a cul-de-sac in the Estates at Behlmann Farms in the Old Jamestown section of the county. A small lake with a fountain in the middle sits on the other side of sprawling brick homes.
Police say they still know very little about the baby, not even the child's exact age or gender.
They ask anyone with information to call them at 636-529-8210 or CrimeStoppers at 1-866-371-TIPS.
Images via St. Louis County Police
The bag was found by fishermen in far north St. Louis County.
We welcome tips and feedback. Email the author at [email protected] or follow on Twitter at @DoyleMurphy.