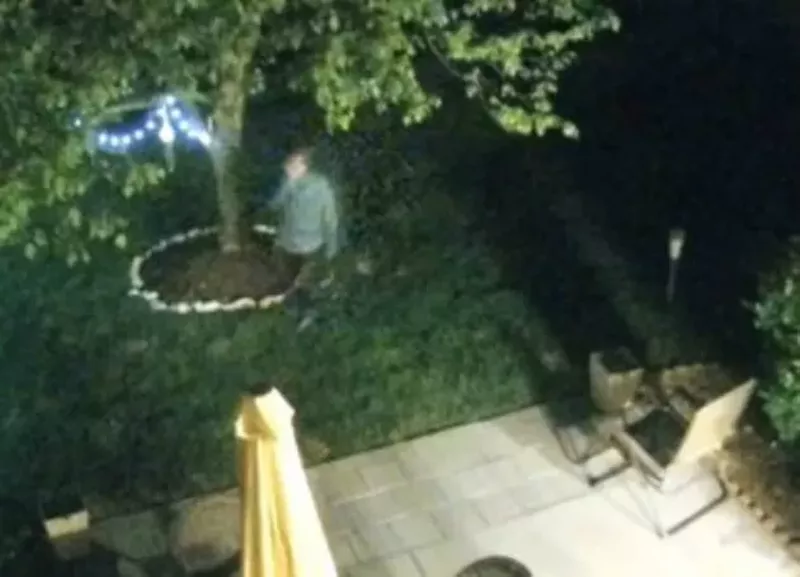 Image via St. Louis County Police
A prowler, shown in a surveillance video clip, spied on a woman in Wildwood, police say.
St. Louis County police are searching for a creep who spent about an hour slinking around a Wildwood woman's home, eventually raising a ladder below her bathroom window while she was inside.
The man was caught on surveillance video about between 9:20 and 10:20 p.m. on Monday as he prowled around the woman's home in the 200 block of Timber Tree Court. He goes back and forth in the video. At one point, he grabs a patio chair, drags it into the shadowy treeline and sits down to watch the woman.
Image via St. Louis County Police
St. Louis County police suspect a prowler stole this ladder and raised it to a Wildwood woman's bathroom window.
County and Wildwood cops responded and found the wooden step ladder nearby, police say. They suspect the man may have taken it from someone in the subdivision, and they are trying to find the owner.
The case is the fourth incident since January 31 in the subdivision, and there are some similarities, authorities say. In one of the previous cases, police also found a stolen ladder.
Anyone with information about the incidents is asked to call St. Louis County Police Department at 636-529-8210 or CrimeStoppers at 1-866-371-TIPS.
We welcome tips and feedback. Email the author at doyle.murphy@riverfronttimes.com or follow on Twitter at @DoyleMurphy.