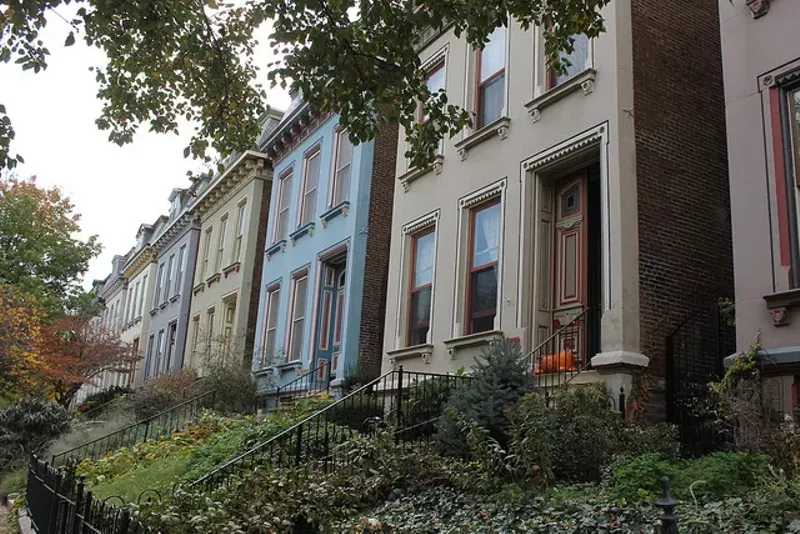 The St. Louis real estate market is so hot right now, buyers are likely starting to feel distinctly outmatched. But sellers? They're sitting pretty — as homes fly off the listings at ever-higher prices.
The median sales price for the area was up seven percent in March from that same month last year, even as time on the market dropped from 150 days in March 2016 to 92 days last month. Meanwhile, month-over-month sales were up four percent.
And that's even though
St. Louis was one of the hottest markets in the country last year
. This year's numbers show big growth on top of big growth. We're now down to a four-month supply of homes. (Last year at this time, that number sat at 4.4; a 6.5-month supply is considered ideal, so we're tight, and getting tighter.)
All those statistics are according to the St. Louis REALTORS housing report, which covers the city of St. Louis and St. Louis County. And while the real estate agents represented by the group have good reason to push a bullish narrative, the numbers don't lie: Even
after that hot 2016
, 2017 has seen houses selling faster, for higher amounts of money, even as the number of homes on the overall market has continued to drop.
Essentially, it's a sellers market. In particularly popular neighborhoods, prospective buyers report getting in bidding wars.
Meanwhile, home owners in Tower Grove South say they're getting hit with text messages from real estate agents,
asking if they're willing to sell
. Some thought it was a scam. (Hey, this is St. Louis; we're inclined to be skeptical toward anyone who likes us.) But no, the contacts were the work of Kirkwood-based STL Real Estate, which buys fixer-uppers in hopes of reselling them.
In a press release, the company boasts that it sent the texts because it's just that eager to land residential properties in certain neighborhoods.
"We are a real estate investment company looking for property in profitable neighborhoods," owner Jim Manning stated. "We reach out to these homeowners because we have a great interest in buying residential property in popular communities like Tower Grove, Shaw Park and Kirkwood."
So the news for sellers is very good. The news for buyers? They might be feeling the pinch. That's especially true for those who aren't swimming in money.
John Gormley, CEO of St. Louis REALTORS, says, "One of the things we're seeing is fewer homes for sale under $200,000 – the pricing cohort most common for first-time buyers. With the clear shift to a strong seller's market – tighter inventory and rising prices – the sweet spot for many first-time homebuyers has been somewhat eroded."
Remember, there is always a downside. Always.
We welcome tips and feedback. Email the author at sarah.fenske@riverfronttimes.com