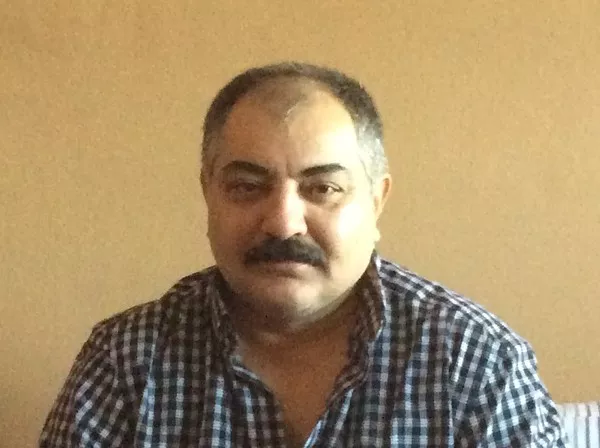 Photo courtesy of Fahime Mohammad
Mahir Mohammad is on his way to Afghanistan. His family is worried for his life.
After more two decades in the United States, Mahir Mohammad is returning to Afghanistan. He's not making the trip by choice.
Last week,
the 53-year-old disabled man was handcuffed outside his south city home
. Immigration agents, working under the strengthened enforcement policies enacted earlier this year by President Trump, detained Mohammad and quickly shipped him to a holding facility in Arizona.
Now, Mohammad appears to be facing an uncertain future in a country that's been rocked by virtually constant war since he arrived in the U.S. in 1995. His family says he has been deported.
"He called his family last night and he said that they had separated all the prisoners by nationality," says Mohammad's nephew Fahime, who co-owns Sameem Afghan Restaurant in the Grove neighborhood. During the phone call, Mohammad told his family that he was expecting to be deported at 8 a.m. this morning.
"Normally, he calls in the morning," Fahime tells the
Riverfront Times
. "He has not called. He did say goodbye to his family, and that once he gets to Kabul he'll give them a call."
When that might be is anybody's guess. Mohammad's family has no way of knowing where and when he will land, or how he will obtain a phone or money to survive. Mohammad had recently undergone multiple surgeries to address a failing liver, and still requires medication and treatment. He will have to rely on whatever supply of medication he was able to bring with him. And when that runs out? Who knows.
According to Fahime, Mohammad left Afghanistan in 1995 and settled in the U.S. legally, using a
visa
intended for family members of citizens and permanent residents. Mohammad's wife is a U.S. citizen, and the extended family is also comprised of citizens and legal permanent residents. In fact, as Fahime described a Facebook post written
last week
, two of Mohammad's brothers deployed alongside American troops as "cultural advisers and translators" during the conflict in Afghanistan.
But at some point Mohammad appears to have fallen out of compliance with immigration authorities. Fourteen years ago, a judge first wrote a deportation order against him, though an immigration official told
RFT
last week that appeals had successfully delayed the outcome — at least, until the Trump administration swept into office.
In 1997, Mohammad pleaded guilty to misdemeanor assault, and in 2004 a second assault charge led to another guilty plea. In 2007 he was jailed on both a felony charge for possession of a firearm while intoxicated and a misdemeanor for possession of a defaced firearm. In 2009, after about a year and a half in prison, Mohammad pleaded guilty to both charges and was released.
But in the last ten years, Mohammad appears to have kept a clean record. Fahime says his uncle stayed sober after his last run-in with the law.
With Mohammad's life now hanging in the balance, his wife is preparing to make the journey to Afghanistan. Mohammad's daughter, a college student at Fontbonne University who had hoped to become a cardiologist, will leave her studies and join her father as well.
"I feel like the whole world is weighing on me," Fahime says. He's still too shocked to fully process his emotions. "I'm the kind of guy who, I weep in my heart, and you can't see it on my face. I don't know how to feel it. He's dead to me right now. I've having one of my worst days of my life."

Editor's note: This story has been corrected to show that Mohammad's prison sentence totaled about a year and a half, not six months, as reported in a previous version. We regret the error.

Follow Danny Wicentowski on Twitter at @D_Towski. E-mail the author at Danny.Wicentowski@RiverfrontTimes.com