PHOTO BY DOYLE MURPHY
Located in the heart of the Loop, Create Space hosted 22 artists and craft makers.
There's another empty storefront in the Loop, but the back story on this one is a bit more complicated than flagging sales or construction-related headaches.
Create Space, the arts incubator that launched in the early months of 2016 on the promise of funding from University City, unceremoniously closed its doors last week. The project — which was leasing the city-owned storefront that was previously home to
Good Works furniture store
— held 22 artisans and crafters who were learning the ropes of starting a businesses even while selling their wares.
The businesses set up shop last April and were meant to be the first "class" in an ongoing project. Two sister projects, Make Space and Kitchen Space, were planned for Olive Boulevard.
But now, says Julia Li, founder of the parent organization, all that is done, at least as far as residence in University City goes. Absent a reversal from the University City Council, Create Space has no plans to reopen the Loop space or choose a new class.
"We are actively looking for another city partner," she says.
The problems for Create Space began with a $150,000 grant that the organization was awarded by University City's Economic Development Retail Sales Tax Board. For more than a decade, the city has levied a one-quarter percent sales tax to fund future economic development, and the board that administers it chose Create Space's proposal for full funding.
But University City politics has been tumultuous in recent years, with rival factions arguing over just about everything. (A recent casualty? City Manager Lehman Walker, who was recently given his walking papers.) The Create Space project was supported by Mayor Shelley Welsch, but her critics on the council questioned why so much
money was being given to an untested organization with a leader in her twenties
. Although Create Space was the top-scored project in fiscal year 2017, Li says, and ultimately the council released the money for the other organizations chosen for funding, Create Space never got its funding. And though the sales tax board again selected it for funding in this upcoming fiscal year, minutes suggest key council members remained opposed.
Andrea Riganti, the city's director of community development, deferred comment to Li. However, Mayor Welsch posted to Next Door a statement attributed to Riganti.
"Sad news for our city, and for our city's reputation for being welcoming to new ideas about economic development and entrepreneurship," Welsch wrote in her introduction.
Riganti's statement then confirmed Create Space has pulled out of the Loop an that "city staff will be working with a broker to market and re-tenant the vacated space."
For Li the situation has been frustrating. "The council just really didn't want to support this project," she says. But rather than a flat no, "they kept us in the dark for months."
The organization had been hoping for resolution by April 1, when the first class reached its one-year mark. After getting nothing but silence — and reading minutes from city meetings in March, which suggested that council members were still averse to funding Create Space — Li says they made the reluctant decision last week to close their doors.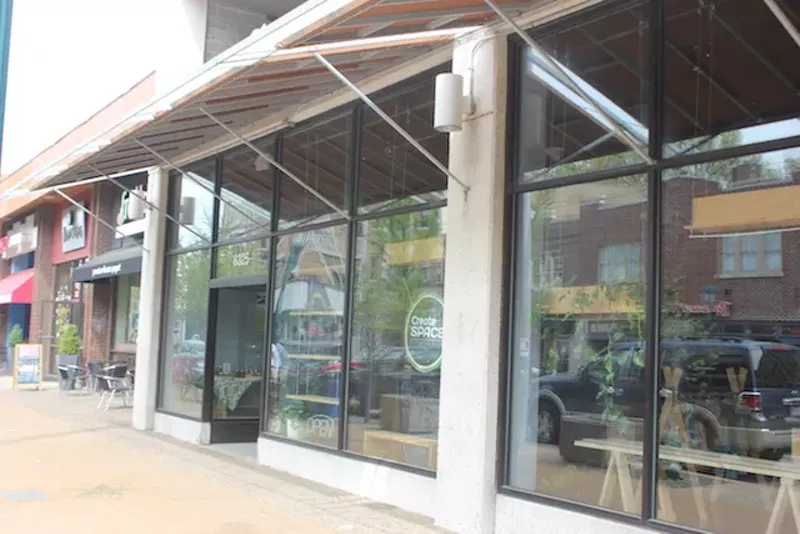 But while the lights are off and the doors are locked even during the times of heaviest foot traffic on the street, the 22 artists inside haven't cleared out. Their wares are still visible from the large street-facing windows. Li says they're contemplating their options. One might be a co-op, where the artists band together to pay rent on their own.
Li says, however, the Loop space is not an option for that alternative plan. The rent is simply too high, and the footprint of their current digs simply too large. "They've been talking for awhile that they'd want a shop on Olive or on Delmar, but it would have to be a smaller shop," she says."
And for the parent organization, Li is hopeful someone will see the potential that University City did not.
"Our model only works when we have a city partner, because the end goal is economic development," she says. "And we will go to the city that has that interest, and has a vision for creative economic development. We thought that was U City, and I still think it is. But I also think they're going through something I just can't comment on."
We welcome tips and feedback. Email the author at sarah.fenske@riverfronttimes.com