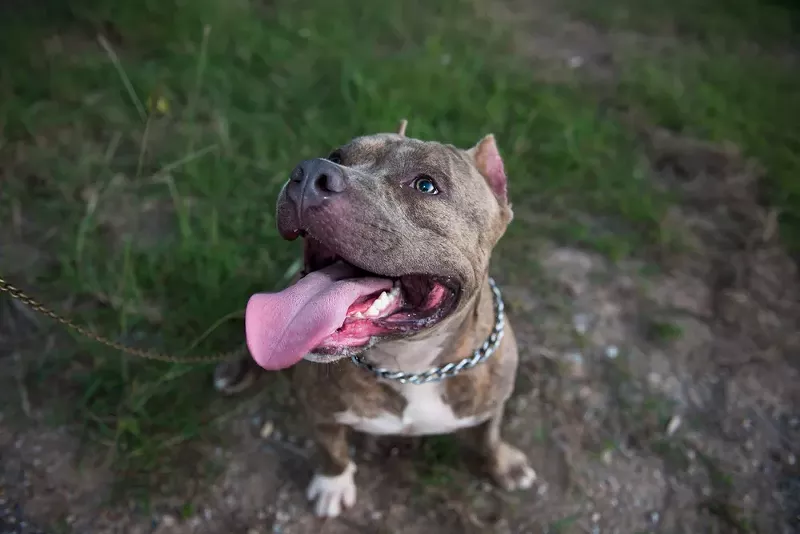 A state effort to stop municipalities from banning various dog breeds appears to have a hit a roadblock in the Missouri legislature — again.
At least 85 cities and towns in Missouri have some form of breed-specific legislation, or BSL, banning pit bulls and other controversial dog breeds. Such ordinances have increasingly come under fire from activists and dog lovers, who say they do nothing to stop dangerous dogs, and lead to serious inconvenience for responsible dog owners.
As
Jessica Karins later detailed in an RFT cover story
, a proposed statewide ban on breed-specific legislation sailed through the House last year, only to get stopped in the Senate when state Senator Brian Munzlinger (R-Williamstown) simply refused to set it for a hearing.
This year, activists say, they've run into trouble in the state House of Representatives.
Oddly, says Ledy Vankavage, the senior legislative attorney for Best Friends Animal Society, the problem seems to be a guy who voted for the bill last year. State Representative Jay Barnes (R-Jefferson City) has refused to move the bill out of his committee for a floor vote, she says. She says he's told lobbyists that he won't act on the bill until gays and lesbians have equal rights in Missouri — an odd issue to link to this one, if true.
"All we want is an up or down vote," Vankavage says. "That's all we're asking." But with the session ending in May, and the Senate still ahead, time is growing short, she says.
In a statement provided to the
RFT
, Barnes said the lobbyist had misunderstood his comment about linking the issue to rights for gays and lesbians. He also noted that he has reversed his original support for the bill.
"When asked about the fate of the bill by a lobbyist, I made an offhand remark about legislation currently moving through the General Assembly that would weaken our state's zero tolerance policy against discrimination against humans on the basis of religion, race, gender, age, ethnicity, or national origin. I commented that it was the highest of irony that there was a group fighting for a zero-tolerance policy for discrimination against dogs at the same time that Senate Bill 43 was moving to make it easier to discriminate against humans. I am adamantly opposed to SB 43.

"... The dog discrimination bill's fate is not tied to any other bill. You are correct that I voted for the bill last year in floor debate. After more deliberation, I have re-considered that vote. I believe local governments should retain the ability to protect their citizens, including children, from dogs that are capable of maiming or killing them."
As Karins' reported, there's broad consensus among experts and those in the animal control community that breed-specific bans do little to stop the problem of dangerous dogs — and by forcing animal control officers to spend their time dealing with dogs who aren't a problem, may actually make things worse. Earlier this year, Florissant repealed its ban, but only after 164 pit bulls confiscated by the city were killed.
Statistics show
that the number of dog bites reported in the city actually increased over the life of the ban.
Michelle Davis, the co-founder and vice president of the KC Pet Project, is part of the group working to get a statewide ban on breed-specific legislation passed. She got involved with the issue after trying to adopt a pit bull mix and learning all the stupid hoops and restrictions that animals faced in her community.
Opposition to pit bulls, she says, can be both race-based and class-based. "They choose to demonize these dogs for no real reason," she says.
She's certain that activists have the votes for a statewide law, if they could just get the legislation to a vote. "We have the support," she says. "I don't know why they want to block it."
Editor's note: A previous version of this story contained inaccurate info about Brian Munzlinger. He is still serving in the Senate, not retired. We regret the error. We also updated this story to include information from Representative Barnes. Our originally published story stated that Barnes did not get back to us, however, that was incorrect. The fault was entirely on our end: We missed a message from his aide in response to our request for comment. We deeply regret the error and regret that we did not include his perspective when he was, in fact, willing to give it.
We welcome tips and feedback. Email the author at sarah.fenske@riverfronttimes.com