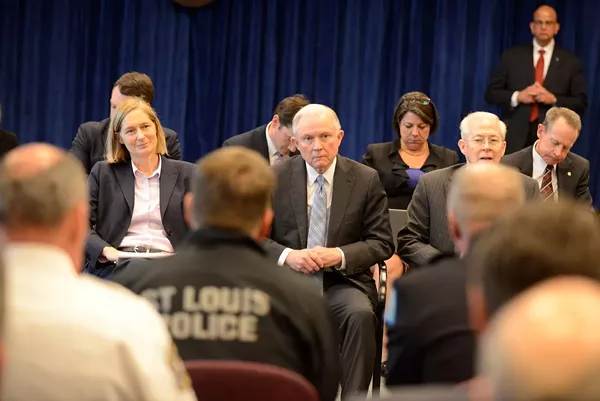 Photo via Department of Justice/Twitter
Attorney General Jeff Sessions speaks to law enforcement on March 31 in St. Louis
The same day Attorney General Jeff Sessions was in St. Louis
not talking about the Ferguson consent decree
, he quietly sent a memo to U.S. Attorneys across the country that critics fear will undo that agreement and others aimed at reforming abusive police departments.
The March 31 memo,
obtained by the Washington Post
, revealed plans to "immediately review" the pacts to make sure they fit with the Justice Department's new guiding principles — which include goals to promote "officer morale, and public respect for their work."
In St. Louis, Sessions made it clear he thinks that cops have gotten a bad rap lately and that reports of abuse are grossly overblown.
"Unfortunately, in recent years, law enforcement as a whole has been unfairly maligned and blamed for the crimes and unacceptable deeds of a few bad actors," Sessions told an audience of metro area officers inside the Thomas F. Eagleton U.S. Courthouse downtown. "Amid this intense public scrutiny and criticism, morale has gone down, while the number of police officers killed in the line of duty has gone up."
The "few bad actors" assessment clashes with the findings of Sessions' Justice Department predecessors, who spent months documenting "a pattern or practice" of unconstitutional police conduct in Ferguson. The widespread problems included illicit car stops, arrests without probable cause and the use of excessive force, according to the findings.
The Justice Department began investigating the north county department after Michael Brown was killed in 2014 by Ferguson police Office Darren Wilson, sparking massive protests. Federal investigators eventually declined to file charges against Wilson, but they found major problems within the department that had hired him.
The investigation led to a 133-page consent decree that calls for a long list of reforms, including better training for officers, civilian oversight and changes designed to keep police and the courts from fining residents as a way to raise money.
Ferguson Police Chief Delrish Moss attended Sessions' speech in St. Louis and told reporters afterward that the city had been working with the Justice Department on a weekly basis.
"That work hasn't stopped," Moss said last week.
But supporters of police reform worry that Sessions, a Trump loyalist, is trying to undermine any progress made.
"Attorney General Jeff Sessions threatens to destroy the reform efforts championed by his predecessor and create an environment in which police and courts can once again act with impunity towards low income communities of color,"
AchCity Defenders, a nonprofit law firm that has fought police abuse, said in a statement the day of Sessions speech
.
What happens next in Ferguson, where voters could choose a new mayor today, remains to be seen. Mayor James Knowles is facing a challenge from Councilwoman Ella Jones, who would be the city's first black mayor if elected.
The city fought some of the reforms proposed by the Justice Department, and it is impossible to say whether its leaders have the political will to implement previously agreed-upon changes if the Justice Department under Sessions loses interest.
Yet the answer to that question may be beyond the control of city leaders and even Sessions. The consent decrees, including the one in Ferguson, are settlements to lawsuits that the Justice Department brought against police departments and city governments. Ferguson's agreement has already been signed by a federal judge and requires regular reports and a monitor. Any change would presumably need to be approved by the court.
Sessions' memo could have a larger impact on cities where the agreements have not been finalized. On Monday, the Justice Department asked a federal judge in Baltimore to delay a hearing on a consent decree in that city so they could see if it's in keeping with their new boss' policies — this despite the fact that
Baltimore's police commissioner and mayor have said they think the reforms are a good idea and they want to move forward
.
Similarly,
Chicago's mayor and police superintendent issued a joint statement
vowing to continue reforms previously outlined with the Justice Department.
We welcome tips and feedback. Email the author at doyle.murphy@riverfronttimes.com or follow on Twitter at @DoyleMurphy.