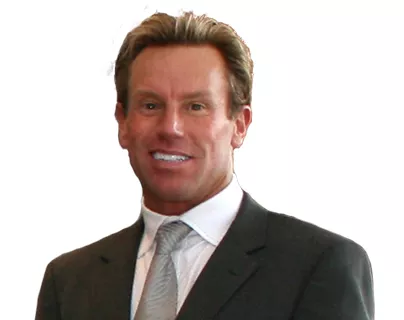 Image via BAM Brands
Todd Beckman is charged with kidnapping.
High-rolling businessman Todd Beckman told investigators in December that he was stunned to find a brutal kidnapping underway when he walked into the home of a young associate the month before.
Brothers Blake and Caleb Laubinger allegedly snatched a Maplewood man from his home and hauled him to Blake Laubinger's house in Pacific, where they tied him up in the basement and tortured him, according to federal authorities. Beckman claimed he arrived after the attack was already in motion.
"I was like, 'Jiminy fuck, what the fuck did you do this for?'" Beckman told Maplewood detectives during an interview at the Drug Enforcement Administration office in St. Louis.
Short clips of the three-hour taped interview were played during a hearing on Thursday in federal court. Beckman, the founder of TanCo tanning salons and the MassageLuXe chain, is facing kidnapping charges, along with five others.
Prosecutors say he
helped orchestrate a vicious plot in November, allegedly pistol whipping and threatening to murder the victim
in retribution for a drug debt. Beckman and the others held the man hostage for three days — first at Laubinger's place and later in a shipping container on Beckman's property — before his family paid $27,000 for his release, authorities say.
But Beckman claims in the video that he suggested only that the Laubingers make a "citizens' arrest" and then call police and report the man for stealing.
"I didn't orchestrate this," Beckman told detectives. "I didn't beat that kid."
Beckman's attorney, Travis Noble, is nevertheless trying to have the statements thrown out. alleging that investigators questioned his client after he asked for an attorney. He also claims members of a DEA task force comprising local cops and federal agents allowed Beckman to
gulp down a glass of vodka after taking him into custody
.
Task force members say Beckman drank only a small amount while they were searching a safe for ransom money at his office in Fenton. He grabbed a bottle of Grey Goose out of his freezer, poured some liquor and took a few small drinks before officers realized what he was doing, authorities say.
We welcome tips and feedback. Email the author at [email protected] or follow on Twitter at @DoyleMurphy.