Yesterday,
six cows made a desperate bid for their freedom
— escaping a slaughterhouse in north St. Louis and
leading police on a chase
that lasted nearly six hours.
But the bovines' Hail Mary attempt to escape the packing plant appears to have paid off for at least one heifer: Two separate GoFundMe campaigns collectively raised close to $9,000 overnight. And
the woman behind one of them
, St. Louis podcaster Kelly Manno, says she has a deal with the slaughterhouse owner to secure the release of one of the cows.
And not only that, but Manno has been able to arrange transport and a forever home for the cow — a family farm in Lincoln County where she can spend her days chewing her cud and marveling at the sky.
Promises Manno, "This is no factory farm. She'll be there with two other heifers."
The radio host-turned-podcaster (
she records The Kelly Manno Show
weekly), Manno previously made headlines
for a crowdfunding campaign to send Stan Kroenke a box of shit
and a stunt where
she showed up in a dinosaur costume while local TV reporters were broadcasting live
.
She acknowledges that this, too, started as a stunt. "I thought it would be funny to go cheer on the cow, and I had my dinosaur in my car, so I headed over there," she says. She hastily drew up a posterboard reading "Run, Forrest, Run!"
While she was on the scene, around 4:30 p.m., the cow was apprehended. And that's when things got serious. "A real human element started to kick into me," Manno says. "His big brown eyes just looked into mine and I started shouting, 'Where are you taking him?'"
Manno is emphatically "not a PETA person" — and not even a vegetarian. But something had been triggered within her, and when no one would tell her the next step, she got in her car and defiantly followed the trailer as it carried the cow away. Still half-dressed in her dinosaur suit ("I had to unzip the top while I was driving," she acknowledges), she followed the vehicle all the way back to the Star Packing Co.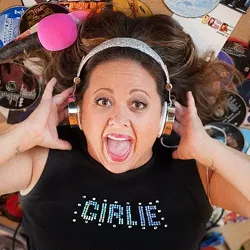 COURTESY OF ABBIE TAKES PICTURES
Kelly Manno.
"I started yelling at the slaughter clinic that I wanted to buy the cow," she says. When they told her it would be $1,800, she vowed to write a check the very next day.
At home, she turned to GoFundMe — and also sleuthing. She tracked down the slaughterhouse owner, and, she says, made a deal over the phone. Funds in hand — thanks in part of a generous donation from Kelly Backes (wife of Blues star David Backes, and the founder of the nonprofit
Athletes for Animals
) — her campaign quickly hit its $2,000 goal. She says she'll be getting Chico today.
(Some news reports have suggested the Backes led the efforts, but that does not appear to be the case. Manno is a volunteer with Kelly Backes' organization, and says the animal lover played the role of "therapist" throughout her whirlwind efforts, as well as helped secure transport for the cow before they realized the slaughterhouse planned to help with that. But
contrary to media reports
, the Backes did not lead either GoFundMe campaign.)
This morning Manno connected with the guy
behind the other GoFundMe page
. Started by a Chicago resident, it has raised a substantial amount of money but has yet to connect with the slaughterhouse. Manno believes that the Chicagoan's effort will focus on the other five cows now that a deal for Chico has been secured.
The slaughterhouse did not answer its phone this morning; a Facebook message to its owner did not get a response by press time. We'll update this post if we hear back. We also did not get a response as of press time from the organizer of the second GoFundMe campaign.
As for Manno, she has still not eschewed eating meat. But she felt like Chico was a cow who had earned her freedom.
Manno described the scene on her
GoFundMe page
:
Not only did this hefer run, she outsmarted about 40 police officers in the process. She ran the city streets like Usain Bolt doing the 100.

It was her freedom run, and her big F*CK you to the fate she was dealt. Her one shot to change her destiny.

Shit if I had a boom box I would have jogged along side her holding it over my head playing her theme song:

"Look, if you had one shot.... or one opportunity...... to seize everyting you ever wanted in one moment, would you capture it? Or just let it slip."

... I started screaming through the fence for the plant to let me buy her. At this point I assumed they thought I was a card carrying PETA member. But I'm not.

Just someone using a little common sense that thinks that any animal who fought that damn hard for their life deserves a second chance.


Check out both GoFundMe campaigns
here
and
here
.
We welcome tips and feedback. Email the author at sarah.fenske@riverfronttimes.com