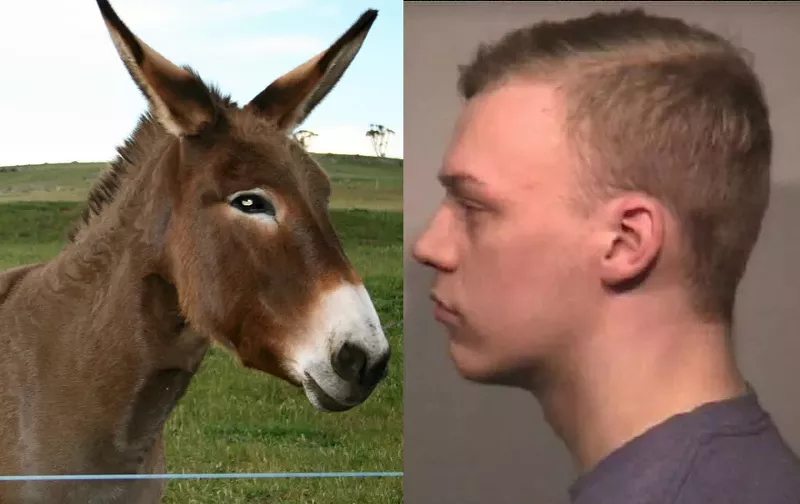 Collinsville police have made an arrest this week in response to reports that some stupid, ignorant jackass punched a noble, dignified donkey in the face and posted a video of the act online.
Lucas Dietrich, eighteen, was charged on Thursday with two class A misdemeanors after a video was posted to the Twitter account @LucasJDietrich on Monday that depicted a fist striking a donkey in the side of the head. Investigators were able to identify the animal, which was behind a green metal fence in the video, as a thirteen-year-old female named Amore from Willoughby Farm in Collinsville.
Police say
Dietrich, who they confirmed owns the Twitter account, was cooperative with officers and the video was subsequently found on his cell phone as well.
In
a statement to the Belleville News-Democrat
, Collinsville Police Lt. Brett Boerm says Dietrich was not trespassing at the time the video was shot. "It's a public farm," he said. "Anybody can walk into the barn and look at the animals."
According to farm supervisor Carol Frerker, Amore is OK and has not required veterinary care. Regardless, the act of punching the animal is, obviously, sheer jackassery.
"They're there for the public to pet, to see and touch," Frerker
told the Belleville News-Democrat
. "It's few and far between that ... something malicious happens. The main goal is to connect people to the animals and learn respect and appreciation for the animals, and 99 percent of the time that happens."
Dietrich is charged with one count cruel treatment of animals and one count depiction of animal cruelty. His bond of $50,000 was posted and he has been released from custody.