Image via SLMPD
David Lopez Jackson pleaded to setting fire to two churches in 2015.
A man who lit St. Louis churches on fire has pleaded guilty to arson.
David Lopez Jackson, 36, was arrested in 2015 after seven churches were targeted in two weeks. Police eventually charged him in two of the arsons, although he was also a suspect in the other five.
On Monday, Jackson admitted setting fires at New Life Missionary Baptist and Ebeneezer Lutheran. He was sentenced to five years in state prison.
The fires attracted national attention, largely because the first attacks were on mostly black congregations in north St. Louis, sparking theories the culprit was motivated by racial hatred.
Yet any idea of a faceless white supremacist descending on black neighborhoods dried up after his arrest. Police identified Jackson with the help of surveillance footage that recorded his car near the scene of one of the fires.
Court records paint a picture of a mentally ill man with a long criminal history. A judge ordered him to undergo a psychiatric evaluation in August, though he was found competent to stand trial.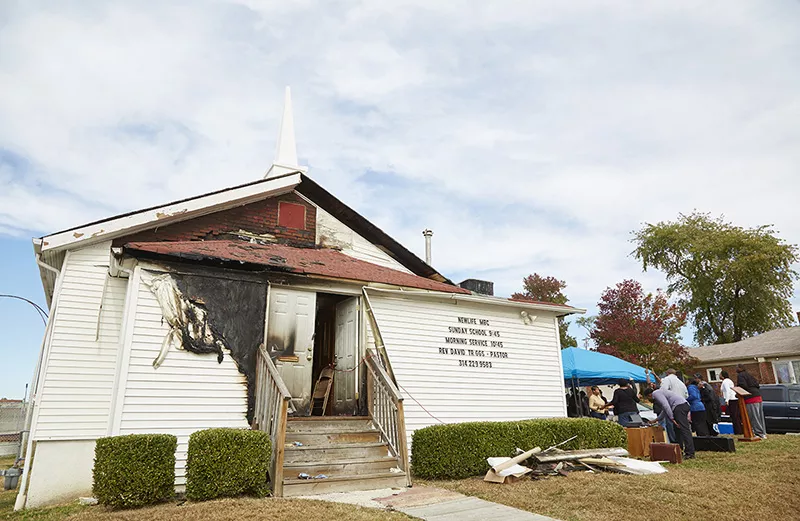 Steve Truesdell
The New Life Missionary Baptist Church was targeted during a string of church fires in 2015.
While Jackson's work stirred up fear, his methods were crude and ultimately not that successful. Investigators discovered traces of chemical accelerant — gasoline in at least two instances — that had been splashed across doorways and lit.
In several cases, the fires did little damage beyond charred doors, although the flames at New Life Missionary Baptist church spread inside and torched the entrance.
After holding services outside the ruined building, the congregation moved to a new home and began anew as United Believers in Christ Ministries.
The case was the subject of a
Riverfront Times cover story in November 2015
.

We welcome tips and feedback. Email the author at doyle.murphy@riverfronttimes.com or follow on Twitter at @DoyleMurphy.