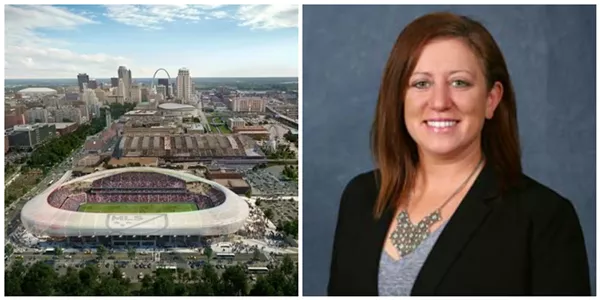 Image via HOK/St. Louis City
Ward 6 Alderwoman Christine Ingrassia sponsored a stadium funding measure — but isn't sure if she personally supports it.
When you're the alderwoman who sponsored a $60 million financing bill that could bring a soccer stadium to downtown St. Louis, you're naturally going to find yourself in front of curious city residents who want to know: Is this deal good or is it crap?
For Alderwoman Christine Ingrassia — whose ward, the sixth, includes Lafayette Square, Fox Park and parts of Tower Grove East, as well as the proposed stadium site adjacent to Union Station — the question is a tricky one. The stadium deal requires that voters approve two propositions on the coming April 4 citywide ballot, and so Ingrassia is making the rounds to discuss the particulars. But at a forum hosted last week by 15th Ward Democrats, Ingrassia responded to one audience member's query with a combination of realpolitik and cagey ambivalence.
As recorded in a
Facebook live video
(click through to roughly the 25-minute mark), a member of the audience asked Ingrassia why funding the stadium is more important than supporting other city services. It's a question she's been asked many times before, and she was ready with an answer.
"I do not feel that is my question to answer," Ingrassia began. "I felt my job was, since I knew this bill would move forward regardless of whether or not I sponsored it, was to bring the most responsible financial plan I could to the voters of the city of St. Louis."
The audience member fired back with a clarification. As a city resident herself, would Ingrassia
herself
be voting for Prop 2, which would trigger the city's $60 million investment in the stadium construction?
"I haven't made up my mind yet," Ingrassia said.
In a emailed statement​ received a few hours after we posted this story,​ Ingrassia defended both her sponsorship the bill and her present state of indecision.
"Voters have a tough choice and I am no exception," Ingrassia said in the email. While sponsoring the bill was based in a desire to protect the city's financial interests, she wrote that voters are ultimately facing
a complex decision
about city resources — and it's a choice with serious question marks surrounding the city's credit rating and whether the state will sell or lease the land designated for the stadium site.
"They must weigh the benefits of having all the positives soccer can bring to the city and region versus adding funding to important needs like affordable housing, public safety and health related issues," Ingrassia said.
Ingrassia's hesitance to throw her full weight behind the measure shouldn't come as a surprise. After all,
it was Ingrassia who very nearly killed the stadium financing plan in January
because the actual were finances were, in her words,
"sloppy" and "not-well-looked-at."

Since then, of course, the stadium plan underwent revisions that knocked $20 million from the
original $80 million
requested by the ownership group known as SC STL.
After an improbable series of events
, the bill was revived in its current form and subsequently
survived
a Board of Aldermen vote in February. All that's left now is for city residents to weigh in.
The core of the financing deal requires voter approve two propositions featured on the April 4 ballot. The first, a sales tax increase to fund a MetroLink expansion, would also trigger an increase in a tax that businesses pay on out-of-state purchases. The second proposition would divert $50 million of that new tax revenue to build the stadium, which would be joined with $10 million of TIF money wrested from a portion of Paul McKee's NorthSide development that overlaps with the stadium site.
Now, with just days remaining before the vote, SC STL is following through on
its promise
to spend more than $1 million to market the deal to city residents. The campaign is also bolstered by
a genuinely enthusiastic soccer fan base
.
The stadium deal also landed a recent endorsement (of sorts) from Alderwoman Lyda Krewson, the Democratic nominee for mayor,
who told St. Louis Public Radio last week
that she "thinks" she will support Proposition 2. Krewson, however, added a caveat: She'd prefer that the city not own the stadium outright, and she hopes to arrange "conversations with leaders of MLS soccer to see if I can figure out a bit of a different structure" — likely hoping to avoid the sort of ownership scheme that left the
city on the hook for upgrades at Scottrade Center
.
The soccer stadium has even the
St. Louis Post-Dispatch
divided. Columnist Ben Hochman penned perhaps
the most impassioned defense
of the deal, while
the newspaper's editorial board opposes both Proposition 1 and Proposition 2
.
Even backers concede the outcome could be
close
. That means every vote counts — even its sponsor's.

Editor's note: We updated this post after publication to include a written statement from Alderwoman Ingrassia.​

Follow Danny Wicentowski on Twitter at @D_Towski. E-mail the author atDanny.Wicentowski@RiverfrontTimes.com