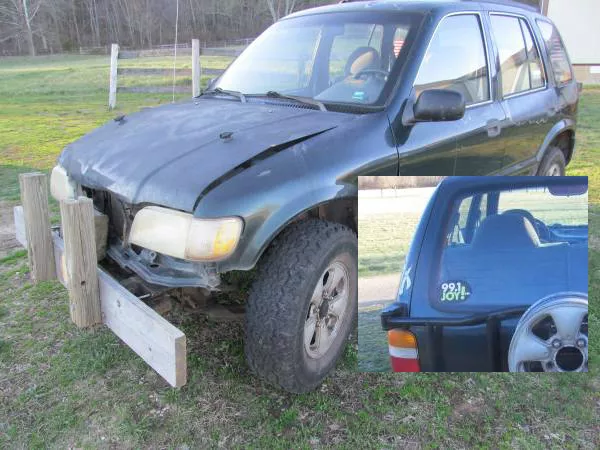 Photo via Craigslist
Won't you please give this poor abused vehicle a loving home?
As we have noted before, drivers who sport stickers from the local Christian radio station, 99.1 "Joy" FM,
are the scourge of the St. Louis roadways
. You can see it in every dent and scratch on their vehicles as they weave maniacally between lanes, their utter disregard for fellow motorists apparent. So universally accepted is this fact that a
public Facebook group
has been created to address the matter, boasting more than 7,000 members.
Now, a Missouri listener of the station has apparently, mercifully, called it quits on the driving front.
A 1997 Kia Sportage,
currently listed on Craigslist
, shows the scars of the nightmarish time it spent with a Joyer behind the wheel. Its hood is riddled with dents and pock-marks, its front grill is non-existent, and its bumper seems to have been replaced with half of a park bench. (We're willing to believe the latter was mounted there on purpose, though we will not discount the very real possibility that the driver merely blasted through a park on accident one day. Here's hoping everyone survived.)
The vehicle's description concedes that it has been in an accident (you don't say!), but it does not explain why the spare tire mounted on the back is missing the "tire" part.
Photo via Craigslist
So strange you almost miss the sticker at first glance.
In all it paints a sad picture. But there is hope.
For a mere $350 you can adopt this poor, abused automobile. You can give it the home it deserves after a horrible life of bashed fenders and scratched paint jobs. You can make a difference.
To all those readers out there with Joy stickers on their vehicles — readers who are trembling with rage right now at our prejudice regarding their driving habits — we say this: Relax.
First, please stop reading this, set your phone down, and get back to driving. Now take a deep breath, count to ten, and follow this person's example. List your car on Craigslist to be scooped up by someone who will actually care for it, you monster.
It's never too late to do the right thing.