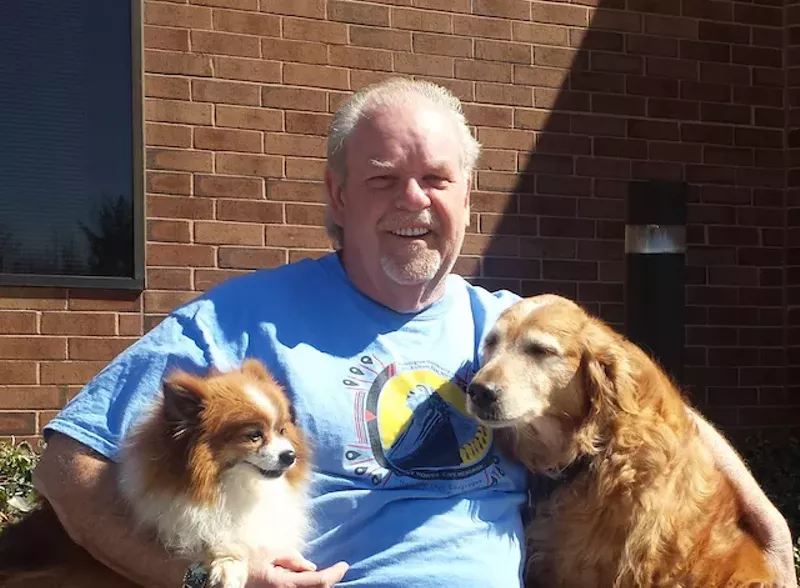 PHOTO COURTESY OF MARK SWAIN
Say cheese!
For anyone who grew up hating the dentist, the way Mark Swain spent March 1 sounds like something out of a horror movie: He was in a dentist's chair for nearly eight hours, without full sedation.
"I had open heart surgery six years ago, so they informed me they couldn't put me under," says Swain, who also admits that poor dental work in his childhood left him with a lifelong phobia. "You can imagine what went through my head when they told me."
And yet it all worked out beyond Swain's wildest expectations. "I was in a twilight state," he reports — and after five and a half hours of removing his old and damaged teeth, followed by a 45-minute break and a few more hours of adjustment, he finally emerged with a brand-new smile.
The dental work came free of charge. As
the RFT first reported
in November, Swain was attacked in Lyon Park in south St. Louis by two men who appeared to be after his pure-bred Pomeranian, Kirby. They punched him and kicked him, an attack that was only stopped when a passing trucker blew on his horn. (Kirby, fortunately, was neither injured nor dognapped.)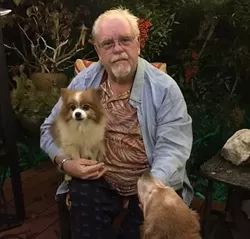 COURTESY OF MARK SWAIN
Mark Swain with Kirby.
The
RFT
's coverage led to TV news coverage, and that
led to the offer of free dentistry
.
Clear Choice Dental Implant Center
, which is based in Creve Coeur, not only performed all the work on March 1 for free, but they also will be following up in December to fit Swain's new, permanent teeth ... also for free. (The teeth now in Swain's mouth are a softer, temporary material, a necessary step in the road to a new smile.)
Swain has nothing but raves about the office's care. "They are so thorough — just meticulous," he says. "And just so gentle and attentive to your needs. The thought of going to the dentist scared me to death for years. The people there have made this such a nice experience, I look forward to going."
Swain, 65, is the president of the Mt. Pleasant Neighborhood Association. Initially too embarrassed to ask for help, he was talked into putting up a GoFundMe by Lucy Hannegan, who runs Twice Blessed Resale in Dutchtown. Hannegan's husband, Bill, helped spread the word after that, and the rest is history.
Says Swain of his new teeth, "What a difference it makes!"
We welcome tips and feedback. Email the author at sarah.fenske@riverfronttimes.com