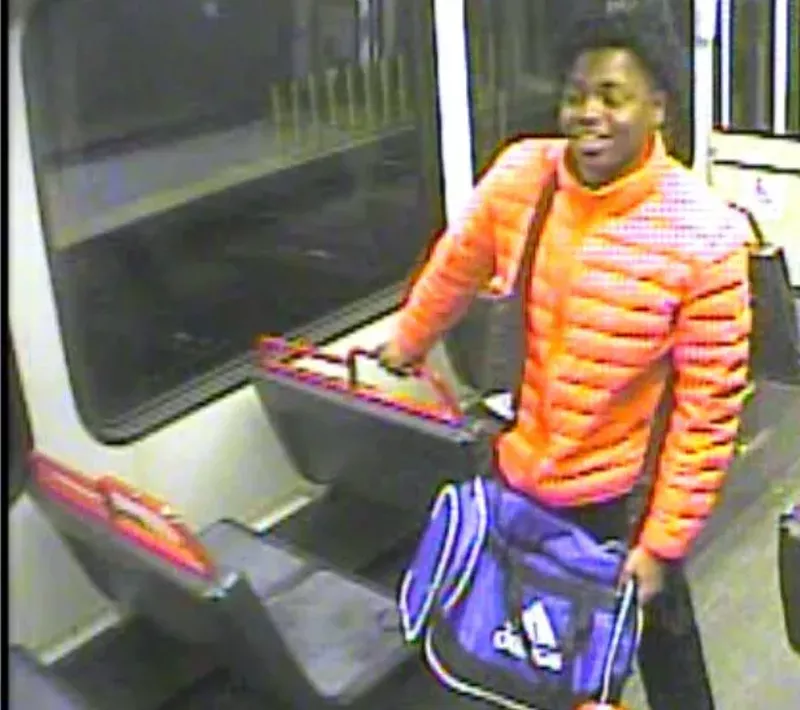 Image via SLMPD
St. Louis police are trying to identify this 'person of interest' as part of MetroLink shooting investigation.
An innocent bystander shot during a vicious MetroLink robbery is expected to die, authorities say.
The 57-year-old was hit by an errant bullet shortly before 11 p.m. Sunday, moments after he exited the train at the Busch Stadium stop, police say. An armed thief had been trying to rob a father and son inside the train, and the gun went off during a struggle, authorities say.
The 57-year-old was shot in the head as he walked along the platform.
"He's not expected to survive," police Capt. Mary Warnecke told reporters this afternoon.
Police are distributing a picture of "person of interest" in the case. The photo shows a young man, possibly in his late teens, wearing a bright orange jacket. Warnecke says that he's not a suspect.
"We think this gentleman may have some information as to whom may have been on that train," the captain says.
Police say a group of six people — four males and two females — boarded the westbound train in East St. Louis and soon targeted the father and son, who had boarded about 10:30 p.m. in Belleville. The 51-year-old father and 29-year-old son handed over some money, but people in the group wanted more and attacked when they didn't get it, police say.
One of the attackers pulled a gun, and during the fight that followed, it went off. The bullet blasted through the window and struck the 57-year-old, police say. He made it through night, but the police department's homicide unit has assumed control of the investigation, anticipating that the shooting will eventually become a murder case.
Police ask anyone with information to call CrimeStoppers at
866-371-TIPS (8477).
We welcome tips and feedback. Email the author at doyle.murphy@riverfronttimes.com or follow on Twitter at @DoyleMurphy.