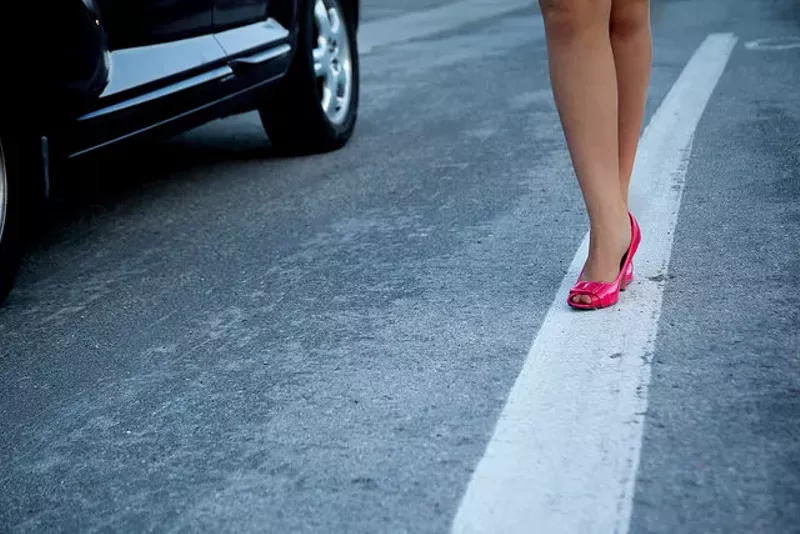 A 22-year-old getting arrested for her fourth DUI isn't usually a matter of levity — unless, as is the case with St. Louis County resident Taryn Blackmer, the police report is written like a minimalist poem dedicated to all the things not to do
during a DUI arrest.
According to the report, Blackmer was stopped for a traffic violation near Clayton and Strecker roads in Wildwood on February 19.
"The officer observed clues of intoxication, including a strong odor of an alcoholic beverage on defendant's person," wrote St. Louis County Police officer David Weinhold. He added, "Defendant was using profane language."
And that's where things start to go off the rails for Blackmer. We'll let Officer Weinhold's report take it from here: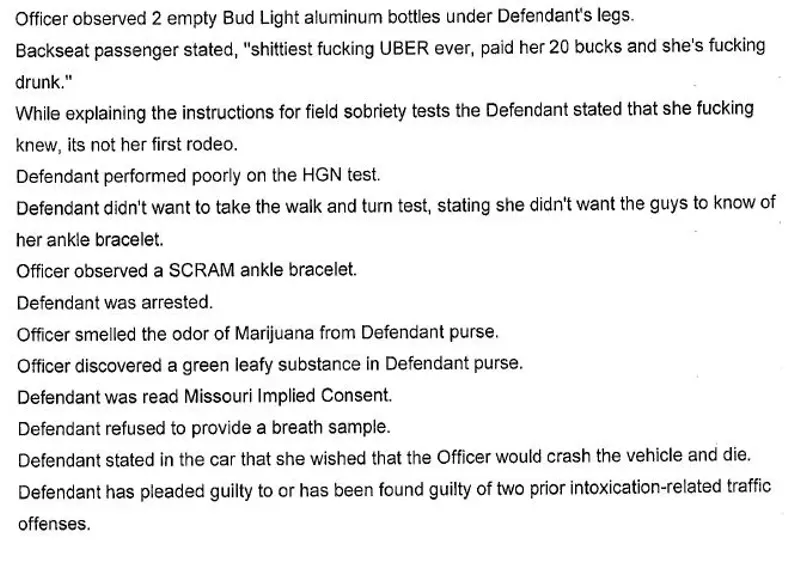 via St. Louis County Police Department
Well then.
Just a few quick notes:
1. Telling the cop performing your field sobriety test that isn't your first rodeo is great way to hint that you haven't learned anything from those prior drunk-driving rodeos! We're not attorneys, but that's probably not a good thing to reveal to an officer of the law.
2. If you're trying trying to come up with a way to avoid the walk-and-turn portion of a sobriety test, try to think of an excuse that does not involve drawing attention to your ankle monitor from a previous DUI.
3. When driving drunk, it's always best to leave your contraband at home.
4. Do not tell a cop that you want him to crash and die as he is driving you to the lockup. This isn't just self-defeating — you're riding in the same car! — but impolite as well.
Now, for those wondering if Blackmer was actually working for Uber: A company rep tells us Uber has no record of any driver by that name, which is a good thing indeed, for both the safety of the public and the reputation of the ride-sharing company. (However, it also suggests that Blackmer's backseat passenger took the opportunity to be a shouty asshole in the middle of her DUI arrest for no good reason. People are great.)
But Blackmer wasn't joking around when she said that this wasn't her first rodeo. According to court records, Blackmer pleaded guilty to DUIs as a teenager in 2011 and then again 2013. As if that wasn't enough, in February 2016, she was arrested for a DUI in St. Louis County. The arresting officer noted that she refused to take a field sobriety test and attempted to "remove the strap of her tank top and bra with the intent to expose herself."
Despite being charged in 2016 with felony DUI as a persistent offender, Blackmer was eventually sentenced to probation in lieu of a 90-day prison stay. She was also ordered to wear an ankle monitor designed to detect alcohol use.
As to why the monitor failed to alert police that Blackmer was back to her old ways, St. Louis County police spokesman Ed Magee told
RFT
that investigators don't yet know how she managed to circumvent the ankle bracelet. "We are looking into that ourselves," Magee wrote in an email.
Regardless, this latest arrest, which took place almost exactly one year after her 2016 DUI, has put Blackmer in a bad spot. She's been charged with an additional felony DUI as a persistent offender, and on Thursday a judge revoked her probation from the 2016 case. Warrants have been issued for her arrest, and once in custody she'll be facing a $25,000 bond.
She was also ticketed for not wearing a seat-belt, operating a vehicle without registration, unsafe driving and failure to drive on the right side of the road.
By the way: if you or someone you care about is struggling with alcoholism or substance abuse, there are people and organizations in St. Louis that can help. Don't let things get so bad that you find yourself immortalized in a police report like this one, or worse.


<!——StartFragment——>
Follow Danny Wicentowski on Twitter at @D_Towski. E-mail the author at Danny.Wicentowski@RiverfrontTimes.com