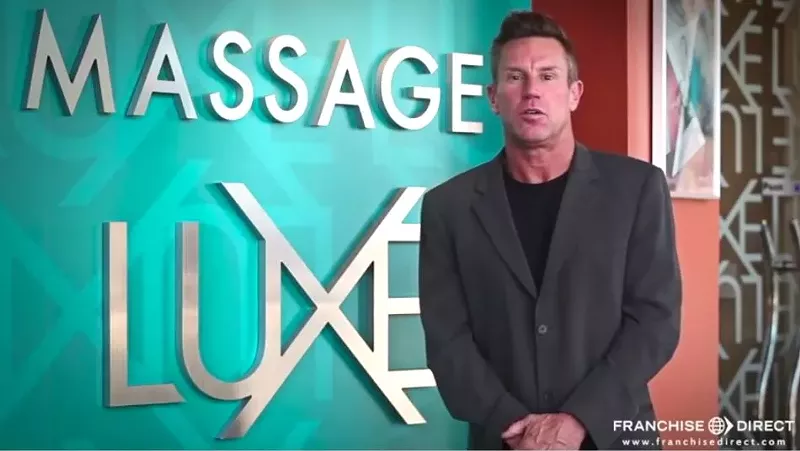 Image via YouTube
Todd Beckman, shown in a clip from an advertisement, is charged with kidnapping.
The St. Louis founder of a chain of tanning salons was in custody on kidnapping charges, showing members of a federal task force around his office before they took him to jail, when he paused to pour himself a glass of vodka and slug it down.
It was a bizarre liberty afforded someone suspected of holding a man for ransom. And now Beckman's lawyers say a judge should throw out evidence collected after Beckman gave them permission to search his property.
"Considering officers allowed and encouraged Beckman to become intoxicated, it's clear [that] not only was his mental capacity compromised, but he was 'cajoled' into any potential waiver," reads a motion filed by defense attorney Grant Boyd.
Beckman is one of five suspects accused of kidnapping a Maplewood man and torturing him for three days in November because of a drug debt. They only released the man after his mother paid a $27,000 ransom, authorities say.
Prosecutors allege that Beckman personally pistol-whipped the victim and threatened him at gunpoint. He also bought shrink wrap and a heat gun, allegedly in case they needed to package the body, according to a federal complaint.
Beckman's lawyers say law enforcement agents deprived him of his right to an attorney and let him get so drunk after they arrested him that anything he said or signed should not be used against him.
A team of FBI agents, Drug Enforcement Agency agents and local police officers arrested Beckman at 7:45 a.m. outside his condo in Fenton. When he dropped his backpack, out spilled unlabeled prescription pill bottles, three cell phones and several 5-Hour Energy drink bottles, authorities say.
The 52-year-old entrepreneur built a line of lifestyle brands, including TanCo and Massage LuXe. He told the officers that he had a handgun in his Subaru and a little bit of weed in the condo, according to court documents. They drove him back to the DEA's St. Louis office for questioning. Beckman eventually agreed to sign consent forms to search the condo, a detached garage and the Subaru.
He also, according to Boyd, asked for his lawyer, Travis Noble — the lead attorney on the case. But Assistant U.S. Attorneys Carrie Costantin and John Davis claim he merely mentioned "Travis" while chatting with one of the task force members about a past DWI and never specifically invoked his right to an attorney.
Prosecutors say Beckman then agreed to accompany agents to the condo, where he pointed them to the closet with the marijuana. They also found a .45-caliber handgun in the Subaru, along with a pair of loaded magazines and a box of .45-caliber ammunition.
Beckman allegedly told them he had been using the pot to fall asleep and a friend had given him the gun to pay off a debt. Next stop was his office at 11 Champion Drive in Fenton. Prosecutors say he told agents he had $5,000 of the ransom money in a safe hidden under his desk.
When they arrived, Beckman's longtime friend and co-defendant, Kerry Roades, was outside, and a Maplewood police detective arrested him. That's when Noble and a couple of associates pulled up.
Beckman had already signed a consent form to search the office. After a brief conversation, Noble accompanied him and the agents inside.
Toward the end of the search, authorities say, task force members uncuffed Beckman and let him use the bathroom in the office kitchenette. Then he asked if he could get a drink. Agents "reasonably thinking Beckman would get a drink of water from the nearby sink, consented to his request," prosecutors wrote. Instead, he opened up the freezer, pulled out a bottle of vodka, poured himself a glass and emptied it.
Noble estimated it was six to eight ounces of liquor. And in the defense team's motion, the attorneys claim it was actually Beckman's second drink since his arrest. They say he was so drunk that he passed out in his cell the next day and suffered a seizure.
Prosecutors argue that Beckman did not seem to have any trouble during a court appearance. Also, it is hard to believe he would have collapsed a day after his in-custody swig, they wrote.
"The conclusion that Defendant Beckman consumed enough alcohol to pass out almost 24 hours later
and
after appearing before a Magistrate Judge for an initial appearance is preposterous and unfounded," prosecutors wrote.
Prosecutors concede Beckman suffered a "medical event" that resulted in a ambulance ride to Barnes-Jewish Hospital, but they raise another possible cause: They claim he previously told a task force officer he did not have his Xanax and was prone to seizures without them.
We welcome tips and feedback. Email the author at doyle.murphy@riverfronttimes.com or follow on Twitter at @DoyleMurphy.